Stella McCartney believes in the healing power of horses
The FW23 campaign, the Falabella bag and the importance of hippotherapy
Stella McCartney has always been committed to a conscious and sustainable idea of fashion that is cruelty-free, eschewing animal-based materials in favour of more eco-friendly ones such as Mirum. This is just one example of the designer's respect for animals, which are often among her inspirations, as with the FW23 collection, which was presented with a fashion show at the Manège de L'École Militaire. The garments were paraded between free-roaming horses. A powerful and striking image that was also captured in the FW23 campaign. It stars Kendall Jenner, portrayed by Harley Weir in the salty expanses of the Camargue in France amongst the region's famous white ponies.
From the campaign starring Kendall Jenner to the collaboration with the Chopra Foundation
The desire to capture the confidence of horses and to reconnect with nature are at the heart of the Horse Power collection and campaign, which is now developing a second phase focusing on the healing power of horses to support the mental health of the younger generation. The partner in this second chapter is the Chopra Foundation, as announced by Stella McCartney herself:
"My Winter 2023 collection celebrated horses and their healing abilities — something that has supported me and my mental health for my entire life. We all need a helping hand sometimes, and I want to make people more aware of the benefits of equine therapy and connect them to it. I knew Deepak and his incredible foundation were the perfect partners to help carry that message to the world".
The collaboration is rooted in a chance meeting between Stella met Deepak Chopra last year: she was immediately inspired to get involved with The Chopra Foundation and the work it is doing to support adolescent mental health. The Healing Power of Horses storytelling centres on the conversation between Stella and Deepak Chopra about the importance and power of Hippotherapy, captured at the Operation Centaur equine therapy centre in London. In addition, a meditation guide will be made available on Chopra App.
"The Healing Power of Horses"
Data shows that the number of young people suffering from depression doubled between 2011 and 2021, and 52.5 per cent of 17 to 23 year olds reported that their mental health had deteriorated, according to COVID -19. Support can be provided by hippotherapy, which consists of rehabilitative activities and techniques carried out with the help of horses. It aims to build a relationship with people with sensory, motor, cognitive disorders in order to treat them. Several studies have shown the programme's effectiveness in all age groups, including adolescents with depression and anxiety, who showed a 60 per cent improvement after a 12-week programme. Interaction with horses creates a non-judgmental environment for self-expression that has a kind of calming effect on our emotions. It has been shown to reduce anxiety, lower blood pressure and stress levels, improve interpersonal skills and increase self-esteem and confidence. The benefits are numerous, as Deepak Chopra also points out:
"Equine therapy is a powerful therapeutic modality that works through limbic resonance, epigenetic modulation, and neuroplasticity to change the neural landscape of the brain for self-regulation, homeostasis, and healing. I am looking forward to building a long-term partnership with Stella McCartney and her team".
New Falabella bag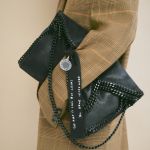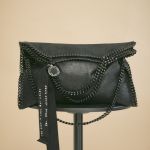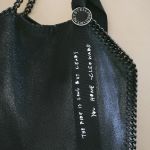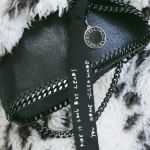 To coincide with the second phase of Stella McCartney's Winter 2023 campaign, The Healing Power of Horses, there is a limited edition of the iconic Falabella bag, adorned with a ribbon featuring the words of famous American poet Cleo Wade. The bags will be sold at stellamccartney.com and in selected Stella McCartney boutiques and a portion of the proceeds from the sale of the bags will be donated to the Chopra Foundation.