Jimmy Choo unveils collab with Jean Paul Gaultier
With an advertising campaign starring Kylie Minogue
Three icons of fashion and pop culture have joined forces for an exclusive collaboration: Jimmy Choo, Jean Paul Gaultier and Kylie Minogue. The first two design, the third wears. The occasion? The Jimmy Choo/Jean Paul Gaultier shoe collection, combining the aesthetics of the two brands and their cities, London and Paris. Available in select boutiques and online from 18 October 2023, knee-high boots, lace-up slingbacks, wedges and pumps feature trompe-l'oeil, sensuality, rebellious elegance and craftsmanship.
A synergistic exchange of ideas
"Jean Paul Gaultier is an icon – as a man and as a brand. I have adored his work for as long as I can remember, and he has inspired me my entire life in fashion. I was incredibly excited to be able to reinterpret his legacy, the meaning of his work and his world, alongside Florence Tétier through the lends of Jimmy Choo. What I found was a kindred spirit – both in Gaultier as a house and in Florence as a woman. We share outlooks and beliefs that we were able to translate to this collection, which celebrates craft, the distinct DNA of both these beloved brands and appropriately enough the power and strength of individuality." Said Sandra Choi, creative director of Jimmy Choo, speaking about the collaboration. An enthusiasm also shared by her colleague Florence Tétier, creative director of Jean Paul Gaultier: "I thought it was a great match, because for me Jimmy Choo is like the Gaultier of shoes: craftsmanship meets rebellion. Gaultier is a strong brand with a strong couture identity, and we really want to collaborate with people who have a savoir faire that we don't have. Jimmy Choo has a lot of experience in leather goods and shoes. Both Gaultier and Jimmy Choo make people stronger and more autonomous-this is what Monsieur Gaultier has always done in his work, as has Jimmy Choo - it's a great synergy."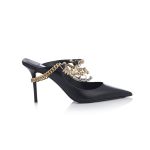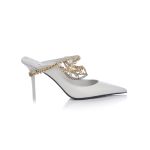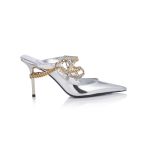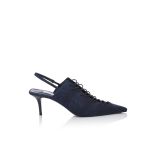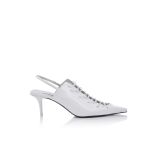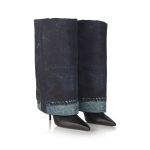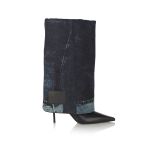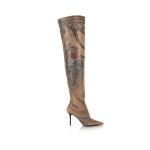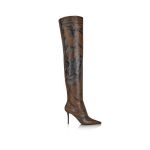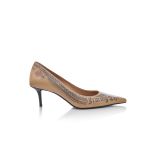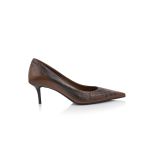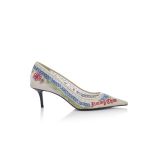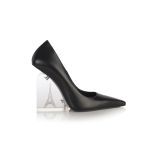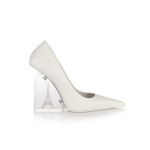 The Collection
Described as a "creative conversation" between the two fashion houses, the capsule collection features the "greatest hits, times two" and combines the DNA of both brands. Highlights include slingbacks with killer heels and laces reminiscent of the typical lacing of a corset, metallic mules with chains, crystal-studded kitten heels, denim fold-over boots that feature "the perfect wash" and 110mm-high clear Perspex wedges with tiny sculptures of the Eiffel Tower and Big. There is also no shortage of homages to Les Tatouages, Gaultier's iconic 1994 collection SS, which serves as the print for pumps and cuissard boots.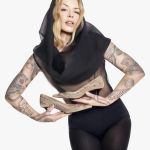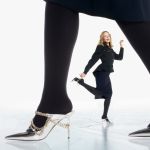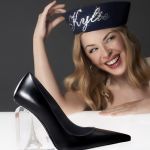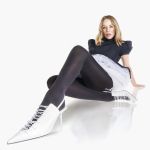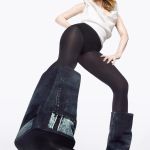 The campaign with Kylie Minogue
For the launch of the capsule, Jimmy Choo and Jean Paul Gaultier chose a star who has long been associated with both brands - Kylie Minogue. The singer stars in the ad campaign, which was shot by French photographer and director Valentin Herfay and styled by Katie Grand. Florence Tétier, Creative Director of Jean Paul Gaultier, said, "Jimmy Choo is like the Gaultier of shoes — craft, meets rebellion. And Kylie is more than a musician — with a rich and deep history with both houses. When I think about design references and aesthetics, both our brands celebrate the strong female form framed through pop culture, a shared ideology that really stands out. Kylie is the embodiment of that".