Is there a limit to the nude look?
The recent looks of Bianca Censori and Julia Fox have pushed beyond the concept of the nude look and naked dress
Is there anything else that should not be worn in public? Is there a limit to the percentage of naked skin that may be shown? Who has the right to say what is indecent and what is not in terms of clothing? When will we learn to leave conventions, bigotry and puritanism behind? Does clothing still convey a message that says something about us, the society we live in and who we want to be, or does it just represent an element to be adhered to? These are just some of the questions that run through the minds of many in light of the rise of the nude look. It is becoming more and more common on the catwalks, from Nensi Dojaka to Miu Miu with its trouserless dresses, and celebrities are loving it and challenging each other with more and more extreme outfits, sparking the debate on whether there is or should be a line that should not be crossed, especially when this kind of clothing is not only seen on the red carpet but also on the streets of our cities.
The naked look in recent history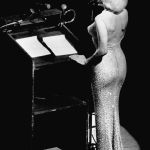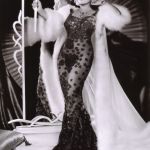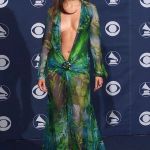 The term "nude dress" first appeared in the 1930s to describe a strapless dress that seemed quite extreme at the time. By mid-century, film and cabaret actresses and actresses such as Mae West and Marlene Dietrich continued the trend, wearing daring stage costumes that gave the impression of nudity. in 1962, the nude dress, or illusion dress as it was then called, became mainstream when Marilyn Monroe opted for a flesh-coloured, rhinestone-studded dress that clung perfectly to her body as she sang " Happy Birthday" for President Kennedy. Over the years, the nude look has become increasingly popular, denoting an outfit associated with nudity, whether through the use of fabrics in the same colour as the complexion, thus mimicking nudity, or transparencies that reveal certain parts of the body, or slits and abysmal necklines that expose a lot of skin, like JLo's famous Versace dress at the 2000 Grammys.
Celebrities who have worn it in the past and why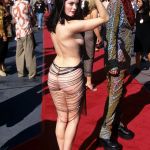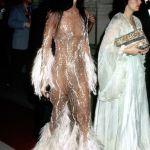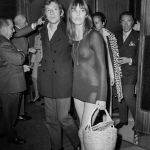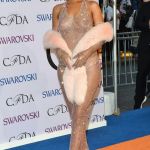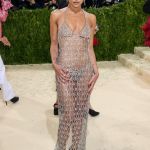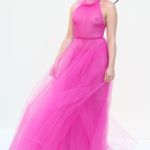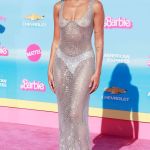 Showing one's body on the red carpet is still a tried and tested means of attracting attention. The many celebrities who have chosen to do so in the past know this only too well. in 1974, Cher appeared at the Met Gala in a see-through dress by Bob Mackie and caused quite a stir. She showed her body the way she liked it best, making a gesture that simultaneously concealed a free self-expression and a claim to female emancipation. Another nude look that has gone down in history is that of Jane Birkin, who went to the premiere of Slogan in 1969 with a jumper worn as a minidress, but without suspecting that it turned out so see-through. Similarly, Kate Moss was immortalised with the slip dress at a party in 1993. In fact, the model repeatedly said she had no idea the garment was as revealing as it appeared in the flash of photographers. And what about Rose McGowan at the 1998 MTV Awards in a dress that was all pearls and a thong? The actress, who was among the first women to accuse Harvey Weinstein of rape, revealed that behind that moment, which was one of the most talked about on the red carpet, was reclaiming her body and sexuality after the assault she suffered. Other memorable nude moments in recent times include Rihanna covered in over 200,000 Swarovski crystals at Fashion Icon at the 2014 CFDA Gala, Zoë Kravitz in Saint Laurent at the 2021 Met Gala and Dua Lipa in Bottega Veneta at the Los Angeles premiere of Barbie. Whether it's to claim the right to show your body, to attract attention, to subvert the evil eye or, like Lizzo, to subvert beauty norms, the nude look still packs a punch, as evidenced by the 2022 pink Valentino dress that revealed a glimpse of Florence Pugh's breasts and drew criticism (especially from men). Pugh responded to the criticism, writing in a post on Instagram, "It was interesting to see how easy it is for men to completely destroy a woman's body, publicly and proudly, for all to see. Being uncomfortable with the human body is colonisation/brainwashing. It's just a body. We all have it."
Julia Fox, Bianca Censori and Doja Cat and the nude look in everyday life

The nude dress has never been more popular. Most recently, Doja Cat, Julia Fox and Bianca Censori have joined the trend. Performing at the Victoria's Secret World Tour, Doja wore a slip dress that showed off her naked body, tattoos and a tiny thong - rather demure compared to other outfits in recent months, but just as uncomfortable, according to the artist. In a series of Instagram stories that were later deleted, she complained about the construction of the dress and underwear: "It's crazy when you're wearing a dress and your whole vagina is showing all night and the straps of the dress are pulling your boobs down to your knees and all you wanted was a slip dress." Being uncomfortable is not a requirement that seems to be important to Julia Fox, at least when you look at the many bizarre looks that have made her famous. Julia Fox opened NYFW 2023 with a decidedly minimal set, consisting of a tiny bra with nipple covers and a thong that looked more like jewellery than a bikini, with which she wore a long leather trench coat. If many turned up their noses at her when she went shopping in lingerie and a denim bra in the summer, this time many are wondering what she will wear next, or rather not wear, to attract attention. However, the harshest criticism has been reserved for Bianca Censori. Kanye West's new wife is spending part of her holiday in Italy, keeping social media and magazines busy thanks to her looks of non-existent dresses, flesh-coloured tights and leggings, skimpy tops worn strictly without a bra, with nipples clearly visible under very tight lycra leotards. Personal taste aside, many pointed the finger at the woman, declaring her the number one enemy of public decency. The Daily Mail even went so far as to call for an arrest or at least a fine for the outrage of the six outfits, calling it a scandal. But is this really the case? We live in a highly patriarchal society where women's bodies are inextricably linked to a sexualised and commodified image that serves to satisfy evil glances. Maybe it's time to change our perspective and expand our boundaries in terms of good taste, modesty and scandal. Perhaps responding with a dash of irony instead of puritanical pitchforks can be a way to help society internalise a personal, free and diverse view of the female body. Currently, women's bodies are once again at the centre of a political battlefield, and even a naked look can be a way to reclaim the right to self-determination and become a symbol of empowerment. At the risk of sounding rhetorical, perhaps we should not be outraged at Bianca Censori with her nipples on display, but at those who deny the right to abortion and those who insist on blaming a rape victim for what she wears. And a see-through dress that is perceived as disturbing could become an instrument of reflection, even of change towards freedom of expression and choice, non-conformity and inclusion.