Fall trends we absolutely need to know about
From back-to-school to winter garden, quiet luxury will not be the only aesthetic we wear in the coming months
What will we wear from September to March according to the FW23 runways? Following the collections of Prada, Bottega Veneta, Burberry, Chanel and other brands, we will rediscover the value of a high-quality, tailored and minimalist garment, but we will also fall in love with florals, maxi scarves and long black coats to brave the frost and whipping wind, power suits, flared lingerie and ties. As the proliferation of quiet luxury has taught us, we will favour refined and functional outfits without forgetting to add a special twist every now and then, be it a pretty earring, an it-bag or a vibrant print.
G-club has selected 10 must-know trends for autumn-winter 2023.
Quiet Luxury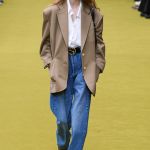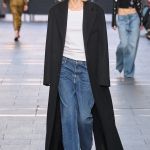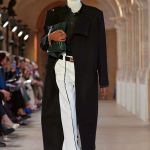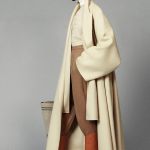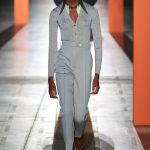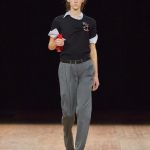 Keyword: discretion. Fall/Winter 2023 wants us to add tailored pieces to our wardrobe, but without logos, eccentric details or anything that draws attention to itself. This season's catwalks confirm that quiet luxury will continue to be the dominant aesthetic in the months ahead. This includes cashmere jumpers, minimalist jersey dresses, white tank tops, timeless blazers and impeccably tailored jeans and trousers. The role models are Bottega Veneta, Gauchere and Gucci, who pair white tank tops and T-shirts with jeans, maxi blazers, long trench coats or with a simple jumper knotted at the hip. For the cold-blooded, the inspiration is layered outfits by Loro Piana, Victoria Beckham and Tove.
LBC (Long Black Coat)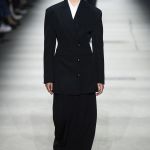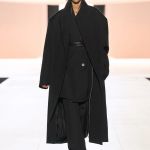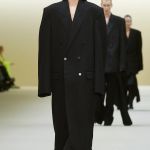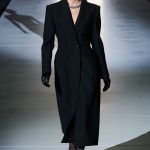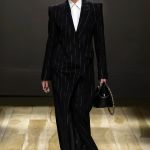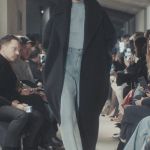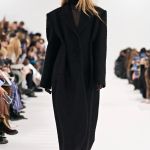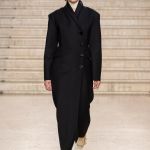 Say goodbye to down jackets, bomber jackets, capes and coats. From October to March, the star will be the coat in its most classic version: black and long. Indispensable, sometimes double-breasted or with gold buttons to break the monochrome, it will be our ally to protect us from the cold without sacrificing style. Finding the right black coat for us won't be difficult, as designers have already brought many of them to the catwalk: Tod's and Dolce & Gabbana propose it screwed at the waist, Balenciaga and Givenchy want it with excess volume, Gucci has chosen it with prominent shoulders, Prada and Dries Van Noten have embellished it with pockets.
Business class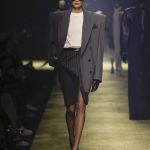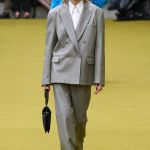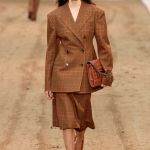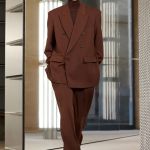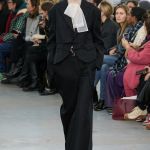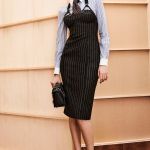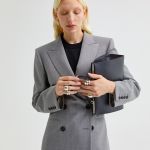 The power dressing of the 1980s, revised and corrected for 2023, is back. Starting with Saint Laurent, where Anthony Vaccarello cited Melanie Griffith and Sigourney Weaver in the iconic 1988 film Working Girl as inspiration for his elegant tailoring with exaggerated shoulder blazers. Add to that skirt suits by Versace, double-breasted suits by Stella McCartney, Gucci and Armarium, pinstripe sheath dresses by Moschino, tailored suits by Trussardi, Sacai or Grabriela Hearst - and you have the inspiration for office attire that makes us feel sophisticated, strong and able to take on the world.
Pleats and drapes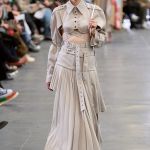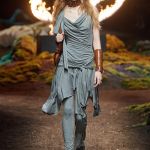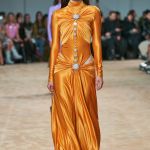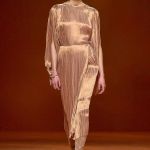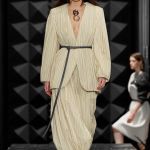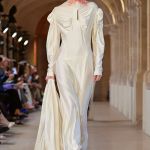 Like a statue. The FW23 fashion shows showed us the designers' talent for dressing the female body and shaping clothes through draping and ad hoc placed pleats. They are the star details of this type of outfits, able to accentuate every curve of our silhouette. Some examples that make us want to buy one of these dresses? Ferragamo, Paco Rabanne, Blumarine, Rokh, Louis Vuitton and Hermès.
White shirt and black tie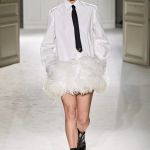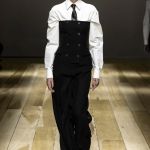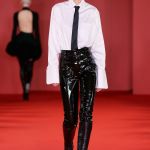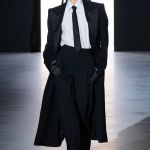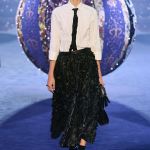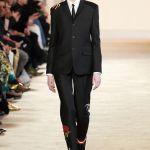 September. Holidays are but a faded memory and it's time to buy a diary and a backpack to cope with the first day of high school. Okay, maybe we're not teenagers anymore, but according to most brands, we should be wearing the back-to-school look again. What can't be missing from our autumn shopping list? A white shirt and a black tie, two things that together can form the basis of a whole, beautiful collection, as Pierpaolo Piccioli, creative director of the Valentino fashion house, teaches.
Lingerie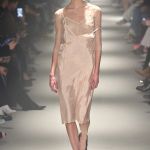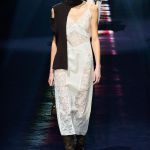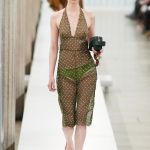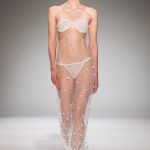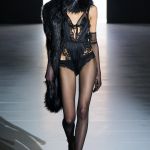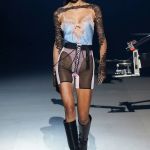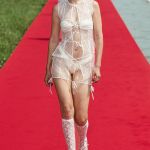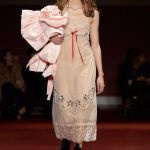 This summer was just the dress rehearsal, but in the coming months we will continue to wear visible lingerie despite the dropping temperatures. Bras, panties and tights are clearly visible under jackets, trousers and skirts, petticoats virtually attain the status of dresses, lace and transparencies are the must-have detail to add a touch of sensuality to our looks. From Miu Miu, where the hem of the tights peeks out of the skirts and culottes worn even without trousers, to the slip dresses of N°21's beautiful collection, from Jacquemus' lace reminiscent of a ballet dancer's to Dolce & Gabbana's femme fatale sets - underwear has never been so cool and essential.
A jump to the supermarket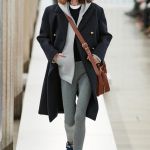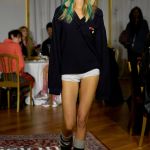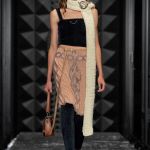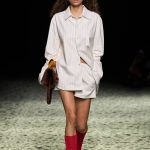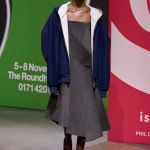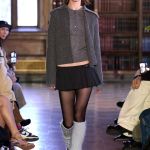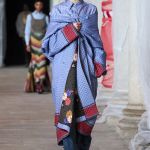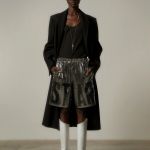 We're at home. It's time for dinner, but our fridge is so empty we cry with despair. It's still a while before the supermarket closes, so we throw on a hoodie and cape over our pyjama bottoms and complete our last-minute shopping outfit with the first pair of shoes we find. The nonsensical mix 'n match seems to have inspired many brands to bring a range of very similar casual looks to the catwalk. Don't believe me? Then take a look at Miu Miu's Athleisure collection, Bottega Veneta's pyjama set or Louis Vuitton's beaded leggings, skirtand maxi scarf combination.
Butter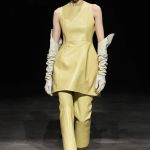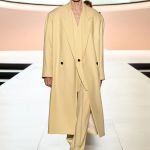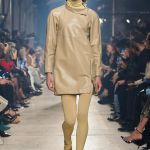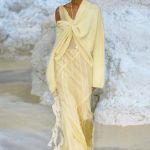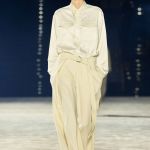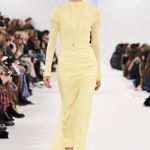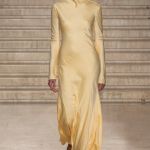 Together with red and grey, butter is the colour of the season. Delicate, chic and versatile, it's perfect for adding a new twist to leather garments, bodycon dresses and tailored suits, as seen in the FW23 collections by Ami, Fear of God, Holzweiler, Isabel Marant, Tove and Givenchy. This almost pastel tone exudes such subtle elegance that it fits perfectly into the quiet luxury aesthetic, but not only. So why not add a "buttery soft" shirt, jumper or jacket to our wardrobe?
Maxi scarf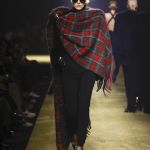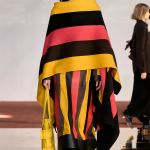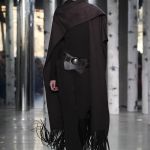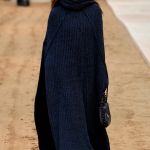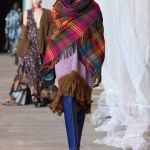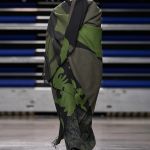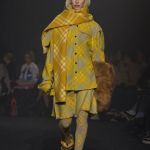 The ultimate trend for shivery women? A maxi scarf, which is more like a plaid or a cosy cape in terms of size. It doesn't matter if it's plain, flowered, checked or striped. The important thing is that it's extra long and warm so you can wrap yourself up in it like a sleeping bag. The catwalks of Etro, Burberry, Michael Kors, Saint Laurent and Gabriela Hearst tell you how to show it off in style and not look like you're walking around the house with a hairdryer. For a cosy winter mood.
Winter Garden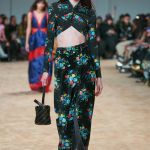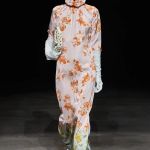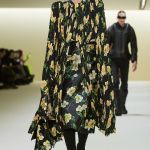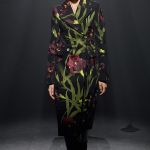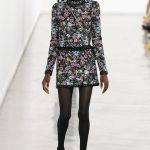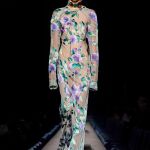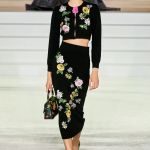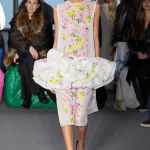 If flowers aren't pure avant-garde in spring, they can become an interesting print to brighten up grey days in winter. From Erdem to Balenciaga, from Dries Van Noten to Giambattista Valli, from Christopher Kane to Prada: roses, lilies, daisies, camellias and dahlias bloom on tops and dresses, often adding a touch of colour and romance to dark backgrounds. A true winter garden that doesn't need a green thumb to grow lush.