Wonderful details from Couture Week
The beauty of Haute Couture must be closely appreciated
Dream, extreme luxury, exclusivity: Haute Couture is the tip of the fashion pyramid, the world where creativity can flow free from the limits of mass production. With prices never below four zeros and specialised ateliers dedicating up to hundreds of hours to the creation of a single garment, Couture symbolises unattainable desire.
The very high standard demands millimetric precision and every seam is finished impeccably, to perfection. Haute couture is the occasion when innovative design combines with tailoring savoir-faire to create creations that often have great visual impact. But it is precisely by getting closer that one is able to perceive the great preciousness of couture: detail.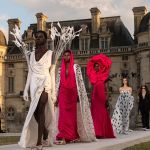 We mere mortals, who do not have access to the Couture Week parigina shows and will probably never wear a Giambattista Valli dress to go shopping, can only imagine. So take some time to take in the beauty of every detail of this autumn/winter 23 collection, dreaming of a world where the boundary between fashion and art becomes increasingly blurred.
Embroidery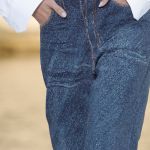 Couture is synonymous with embroidery: a recurring element of all fashion shows, made a central theme by some brands, such as Rahul Mishra, which relies on Indian craftsmanship to create a story. At Valentino, on the other hand, silk looks like denim thanks to micro-bead embroidery in dozens of different shades of blue. Or Dior, which uses tiny hand-applied beads to embellish the whole garment. Chanel's beaded raspberries are also stunning.
Floral applications
From TikTok to Couture: embossed flowers pop up everywhere and are the central theme of Armani Privé's collection. The red rose is reproposed in different ways for each of the looks and is set in an oriental-inspired context.
Textile manipulations
The choice of materials is another of Couture's excellences. Fabrics are often not used in their original form but are treated and manipulated using special dyeing techniques or sewn into a patwork to form a pattern as in Thom Browne's jackets.
Pleats
This ancient technique, synonymous with handwork, is making a comeback. Iris van Herpen uses it, juxtaposing it with futuristic-looking metal applications for a strong contrast. While at Dior, white dresses with very clean lines and overlapping pleats are on the catwalk.
Accessories
Surrealist apples from which golden ears sprout, metallic faces worn as bracelets or mouths hiding in jackets: for Daniel Roseberry of Schiaparelli, the accessory is a small sculpture. Then there are the more conventional floral earrings by Giambattista Valli, which certainly cannot be called 'classic bijoux'.