5 Things To Know About "Le Chouchou," Jacquemus' FW23 Fashion Show
From guests to collection
Jacquemus conquers Versailles. For the presentation of the 2023 fall collection, Simone Jacquemus Porte chose Marie Antoinette's château, amid settings that seem to have sprung from an impressionist painting, an array of lace, lingerie and transparencies that evoke the coquette aesthetic, and an unexpected homage to Princess Diana.
Here is everything you need to know about LE CHOUCHOU, the FW23 show by Jacquemus.
The location
While Pharrell staged his first show as creative director of Louis Vuitton on the Pont Neuf in Paris, Jacquemus went one step further and brought guests and models to Versailles to continue the spectacular settings that have always characterised its fashion shows. The brand showed its new collection on a 400-metre red catwalk that ran through the gardens of the Palace of Versailles. It was a decidedly eye-catching choice, said to have been made by Simone Jacquemus Porte not only for the historical allusions, but also because this is where she had her first date with her husband Marco five years ago in the spectacular 17th-century château just outside Paris that was once home to Marie Antoinette.
The guests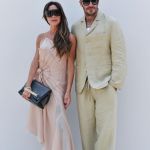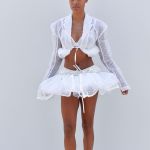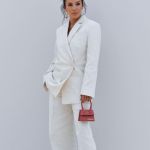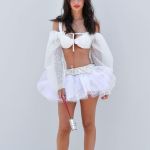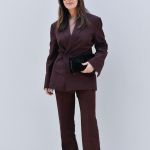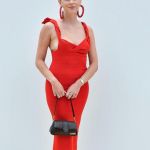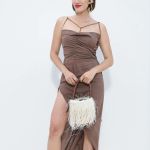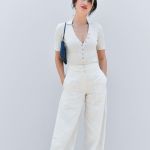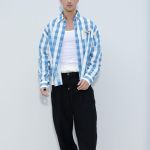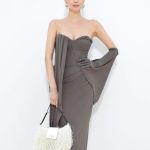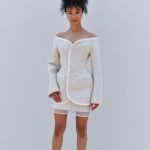 As always, Jacquemus' shows are accompanied by a huge buzz and followed by many fans and celebrities. Among the guests who attended the Le Chouchou collection, which took place on small boats along the Grand Canal de Versailles, as in a painting by Monet, each seating two guests and the driver, were Laetitia Casta, Monica Bellucci, Tina Kunakey, Claire Foi, Manu Rios e India Amartifio aka la Queen Charlotte from Netflix. Vittoria and David Beckham arrived hand in hand, she in a pink slip dress and he in a beige linen suit, a similar outfit to girlfriend Eva Longoria's in an ivory oversized linen pantsuit from the French label. Cute Emily Ratajkowski in a classic ballerina version in an all-white look from the new collection, consisting of a bralette with sheer, wide sleeves paired with a tutu mini skirt and a pair of Mary Jane's with square heels. There was also no shortage of influencers including Tiffany Hsu, Valentina Ferragni, Lena Mahfouf, Leonie Hanne e Veronica Ferraro, while the faces of Kendall Jenner, Gigi Hadid e Vittoria Ceretti were seen on the runway.
The collection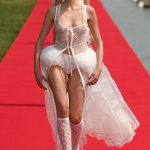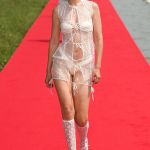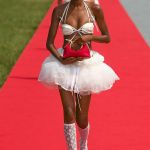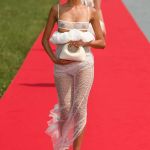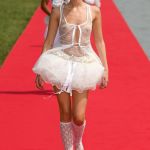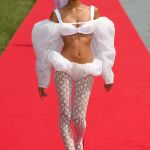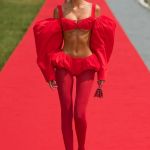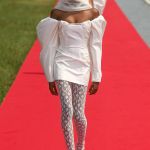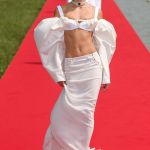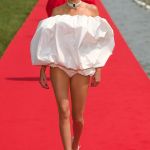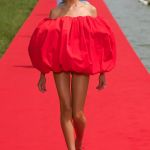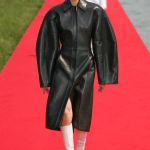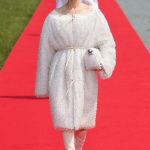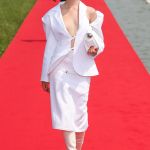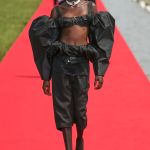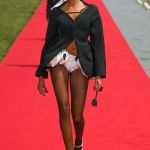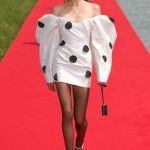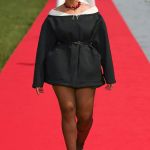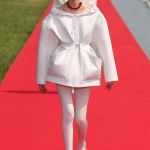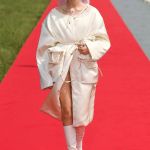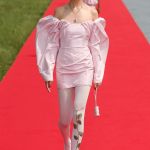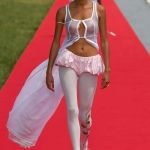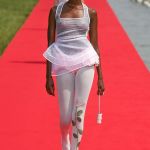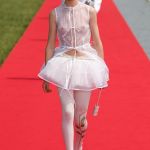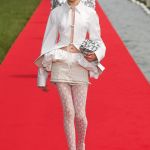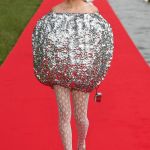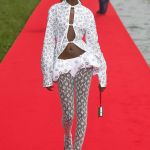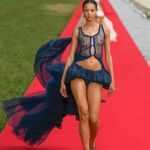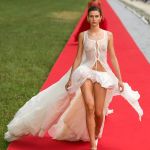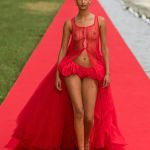 "I was so inspired by this historical place during the design process that it led me to explore many new creative possibilities, different from my past shows, but still very Jacquemus. I am really honored and proud to be able to do a show there, as an independent fashion house. It's going to be a very special moment for Jacquemus".
Said Simon Porte Jacquemus, explaining the significance of the location and how it influenced the garments in the new collection. LE CHOUCHOU, however, did not bring a kind of Marie Antoinette à la Sofia Coppola to the catwalk, but rather the idea of a modern queen or princess with a romantic and self-confident soul who uploads videos on TikTok and aspires to the role of an It-girl rather than a head of state. Following the aesthetics of cottagecore, balletcore and coquette, the looks, monochrome sets with rounded silhouettes exclusively in white, black, navy and red, alternated lingerie made of transparent lace, tulle and silk, short and bouffant skirts such as tutus, bralettes and lace tops, nightgowns, 80s mood dresses and bubble dresses reminiscent of creations by Pierre Cardine and Cristobal Balenciaga.
Homage to Lady D
Not just Marie Antoinette. The main inspiration for the garments and especially the accessories of the new Jacquemus collection was Princess Diana. The chocker seen on Kendall Jenner on the catwalk, for example, was a tribute to the brooch that belonged to the Queen Mother, which Lady D transformed into a seven-strand pearl necklace with diamonds and sapphires and wore with the iconic Revenge Dress. If you take a closer look at LE CHOUCHOU and compare it with the wardrobe of the Princess of the People, you can spot some common elements such as the preference for polka dots, large volumes, lace and balloon sleeves of the dresses she wore when she was still married to Charles.
The new it-bags
LE CHOUCHOU also stands out for its accessories, the ballerinas with square heels and the handbags. The models feature a version of Le Bambinou for the wrist, a softly structured model with a clasp rolled around a gold metal tube reminiscent of the scrolls on which royal edicts were written, and the house's new bag with a gold ring handle, which is much more minimalist than its predecessors.