Wedding dresses, five beautiful, inexpensive ideas for an unconventional wedding
For your wedding dress, here are some ideas that differ from the classic long and airy wedding dress
Among us there is always a bride who does not like traditions. She may choose to say yes to her beloved on the beach or in a bucolic location, or even with an after-party following the closed ceremony celebrated only with family and close friends. A Carrie Bradshaw wedding, so to speak, although it recently emerged that her "Nobody" dress, i.e. the suit ensemble consisting of a baggy blazer and a longuette skirt, was actually a vintage Dior model. If some people, like the sex expert in the iconic series Sex and the City ( TV ), opt for a vintage model that no one can replicate because it is one-of-a-kind, other brides-to-be prefer instead to opt for an inexpensive wedding dress that can perhaps be reused for another occasion, such as a white party. The call comes from some stars, such as Olivia Palermo and Keira Knightley, who have reused their wedding outfits on several occasions. So here are some brands that focus on minimal and straightforward designs, perhaps with semi-eccentric details like feathers and rhinestones, at democratic prices. We have selected them for you in the hope that you'll love them as much as we did.

The Retro Collection by Art Dealer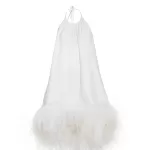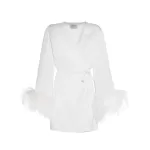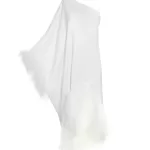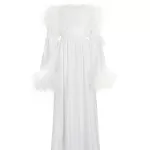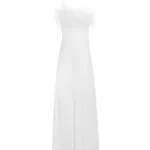 Five models dedicated to feather fans.
A collection designed for an alternative bride
(but also for those who want to reuse these creations, perhaps on the beach), or who want to get married in a town hall, or even for those who want to make a quick outfit change for dancing in the evening. Wrap dresses, short and bare-backed, or long and off-the-shoulder, or slip dresses. All made of silk and with the feather factor.

Sleeper's easy wear collection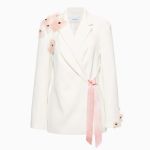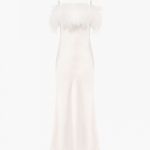 This Ukrainian brand, which specialises in
pyjamas for everyday wear
(last seen: actress J Smith Cameron from the hit series SuccessionTV), has also launched a selection for brides. Here, the focus is on classic pyjamas with detachable feathers, slip dresses and even romantic outfits featuring contrasting bows and flowers.


The vintage-inspired collection by Rixo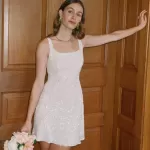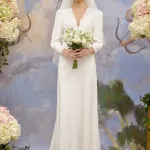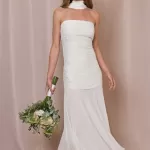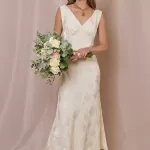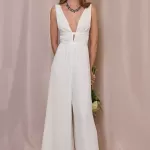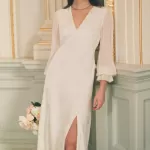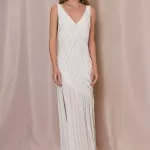 Outfits that look like something out of a black and white film.
The British brand was inspired by great icons like Kate Moss and Carrie Bradshaw to create a collection ideal for the urban bride. The short and longgarments - there's also a jumpsuit - are super practical, even suitable for summer evenings, and all made from sumptuous silk that glides perfectly over the body and accentuates the silhouette.

The beach-inspired collection by Ba&sh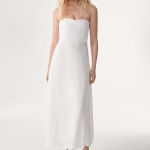 The French brand with a penchant for the
typically Ibizan boho chic style has designed a bridal fashion collection
. A hymn to freedom, all in white and festive colours. Their motto is simple: say yes to the joy of good times and to dresses that can also be reused on other occasions to write new stories


The Haute Couture collection by Rotate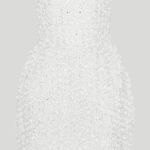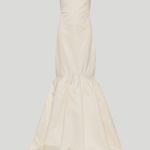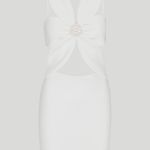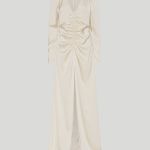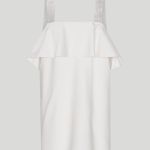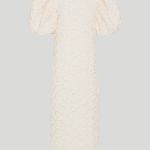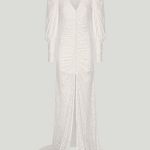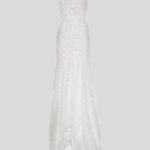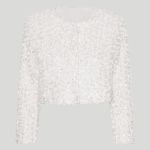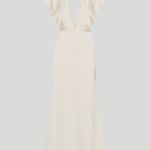 If you are one of those brides who does not like minimalism
, here's a selection for you. Fancy shapes, luxurious fabrics, unusual details. The proposals are varied and meet every taste, from those who love a princely long to a mini dress, even a blazer instead of a dress. And then straight textures to those adorned with bows and a cascade of rhinestones.