Everything to know about the first leg of Beyoncé's Renaissance World Tour
From looks to fun facts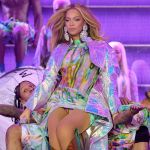 Queen B is back. Almost five years after her On the Run II tour with Jay-Z, Beyoncé took the stage at Friends Arena in Stockholm last night for the first leg of the Renaissance World Tour and made it clear right away that she would not disappoint fans' expectations. The show was crazy, an ode to dance music and queer culture in a futuristic setting. Thirty-six songs were on the setlist for a total of three hours of music, with everything thought out down to the last detail to ensure the wow effect and create a space atmosphere: Dancers, visuals and elaborately curated special effects such as dancing robots, outfits that could change colour thanks to UV light, a kind of metal tank that fans called BeyWagon, a giant "robot vagina"," a huge white horse covered in glitter and many couture looks chosen by stylist Shiona Turini.
Here's everything you need to know about the first date of Beyoncé's Renaissance World Tour.
The looks
The singer opened her Dangerously In Love 2 concert in a tailored Alexander McQueen bodysuit covered in anatomical embroidery of silver beads and crystals, somewhat reminiscent of the style of Thierry Mugler's creations she wore during the 2009 I Am Tour. The jewellery was from Tiffany & Co. and the beauty? Bey opted for loose, flowing honey-brown hair with balayage and curtain fringe framing her face, which was sculpted by sun-kissed make-up. After this Barbarella-style opening, Bey wore a long series of extraordinary looks, including a bespoke beaded bodysuit by Balmain designed by Olivier Rousteing, a hat and sunglasses inspired by the dancefloor codes of the Rousteing-Beyoncé collaboration unveiled some time ago, and a dress by Anrealage that changed colour when exposed to UV rays, similar to the garments in the Japanese brand's FW23 collection. London-based designer David Koma created a holographic minidress and trench coat for the artist in shades of green, yellow, blue, orange and purple, which she paired with a pair of maxi earrings and pointed gold boots. The same cosmic princess vibe was exuded by Courrèges' signature look, which she wore to Alien Superstar, a silver bodysuit with a metallic and reflective finish, paired with soft white boots by GEDEBE.
The outfit that went instantly viral? A jewel-toned bodysuit by Loewe, designed by Jonathan Anderson, inspired by a look from the brand's FW22 collection that featured a design of some arms with red painted nails wrapped provocatively around the star's body, reminiscent of a similar outfit, a body-con dress by The Blondes worn on tour in 2013. The Texan singer closed the show with a tribute of sorts to Studio 54, performing to the sounds of Summer Renaissance while perched on a giant sequined horse reminiscent of a famous Bianca Jagger painting. The look was created by Casey Cadwallader for Mugler, as was the custom-made bodysuit with antennae she wore in another moment of the live show, inspired by a creation from the brand's SS97 collection.
Beyoncé vs Britney
Beyoncé paid tribute to Britney Spears. In the second half of the concert, before she switched to Thique and was accompanied by French dance duo Les Twins, Spears' Toxic sample rang out, sending fans into raptures.
Will this be Beyoncé's farewell tour?
According to some persistent rumours, the Renaissance World Tour could mark the singer's farewell from the stage. Many fans are convinced that the current tour will be Bey's last. The clue? The musical line-up of the show, which started with ballads like Dangerously In Love, Flaws and All and I Care and then continued with her greatest hits and the entire Renaissance album. The theory seems a bit weak, but we'll see if it proves true.
Beyoncé vs Tiziano Ferro
Unfortunately, Beyoncé will not be doing an Italian leg of the tour and "the mistake" would be Tiziano Ferro. This is because the Black Evenings artist will be performing in Milan at the San Siro Stadium on 18 June and in Rome at the Stadio Olimpico on 24 June, snatching the possible dates Bey had in mind for her 2023 Italy concerts. Does the adage "first come, first served" also apply among stars?