What is Clowncore, the trend that wants us all to dress like clowns
Eccentric outfits, mix'n match patterns and colours, oversized volumes and a bit of madness
The circus has come to town. And it has brought with it an obsession with clowns, rejected in all variations of costumes and masks, that has gripped celebrities, designers and society. The TikTok community, where the hashtag has racked up more than 500 million views, calls Clowncore the trend of dressing like the stars of a circus performance, where bright colours and exaggerated silhouettes shine, the same features that have made Loewe and Bottega Veneta's "inflatable" accessories or MSCHF's giant red boots a viral success. While the Chinese platform embraces the more exaggerated, fun and outlandish side of this aesthetic, mixing patterns, colours, shapes and eccentric details to add a touch of madness to everyday drabness, actors and pop stars, on the other hand, have opted to take the clownish vibe further in a gentler way, drawing inspiration mainly from the characters of Harlequin and Pierrot, who are certainly the chicest clowns around.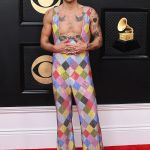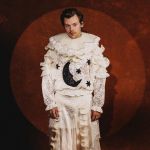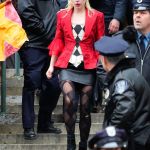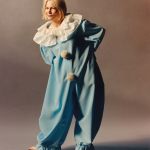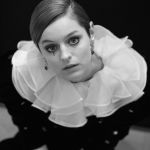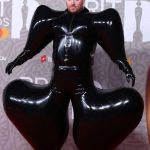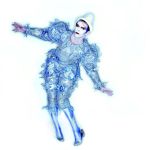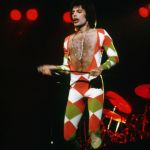 Following the example of icons like David Bowie and Freddie Mercury, Harry Styles, on the advice of his stylist Harry Lambert, has often downplayed his contemporary sex symbol image. Not only has he adopted gender-neutral fashion, but he has also dressed up several times, including on the red carpet. At the recent Grammy Awards, he wore an Egonlab x Swarovski model, a catsuit with bell-bottoms and a generous square neckline adorned all over with colourful diamonds set with 250,000 crystals. On stage for his Love On Tour, he appeared in a sad clown costume tailored by Gucci. Pierrot was also the main reference for Emma Corrin, who wore a black and white look by Miu Miu at the virtual Golden Globes 2021. Oversized dresses, on the other hand, inspired the BODE jumpsuit Michelle Williams wore in a photo shoot for W Magazine or the latex suit Sam Smith chose for the Brit Awards 2023. The kick- off for clown mania in the coming months will be, as it was for Bill Skarsgård's Pennywise and Heath Ledger's and Joaquin Phoenix's Joker, the cinema release of Joker: Folie à Deux. The project is still top secret, but the first pictures of Lady Gaga as Harley Quinn in a bustier top, a red satin jacket with tulle sleeves, a leather miniskirt and sheer black stockings, all decorated with the characteristic Harlequin diamond pattern, already seem to anticipate the key pattern of the coming months.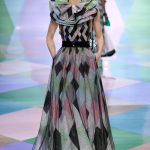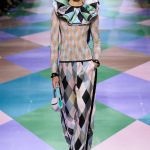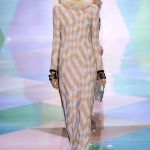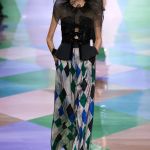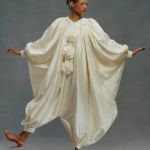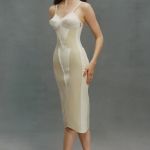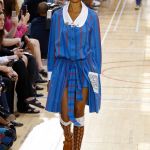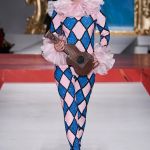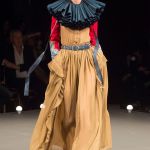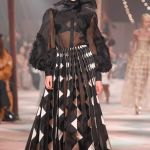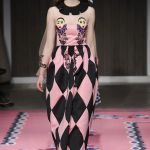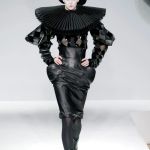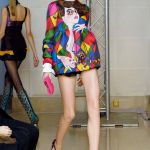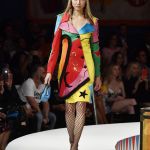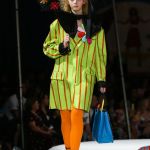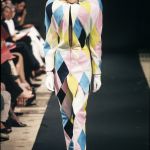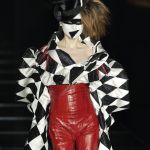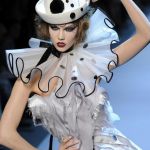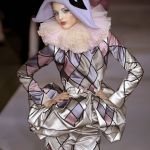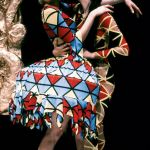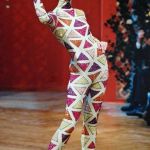 The couture catwalks dedicated to spring 2023 can be read as anticipating the Harley Quinn effect. Armani Privè's runway show was a sophisticated reinterpretation of the Harlequin style, consisting of light and curvaceous maxi dresses embellished with Pierrot-style ruffles and highlighted by diamond motifs, which were presented in combinations of teal, Mauve, light blue and gold, echoing the colour tones of the rococo interiors of Venetian palaces and, above all, the most famous character of the centuries-old Venetian Commedia dell'Arte. At Dior, on the other hand, the clown necks inspired by Josephine Baker's wardrobe stood out, while at Chanel the circus atmosphere was evoked by the models' top hats and decorative bows. And what about Marni's FW23 show in Japan with its absurdly voluminous shapes and silhouettes that looked perfect for a clown costume? This and Christopher John Rogers' Pre-Fall 2023, with its dramatic ivory-white models, are just the latest examples of the relationship between fashion and clowns. While it's true that the first known clowns date back to Egypt's Fifth Dynasty, around 2400 BC, designers have been looking to their costumes to create outfits and looks for decades. One of the first to be fascinated by clowns was Elsa Schiaparelli, who introduced the Circus collection in 1938, which included jackets woven with feathered, dancing horses and fastened with acrobat buttons designed by Jean Schlumberger. Vivienne Westwood, John Galliano, Dior and Moschino followed, bringing multiple garments to the catwalk that drew on the eccentric charms of clowns, Pierrot and Harlequin. Do you remember the 2011 autumn couture show with Karlie Kloss as Pierrot or Bella Hadid as Harlequin on the Moschino SS20 catwalk? Then you should brush up on your skills, because in the coming months our looks may be filled with colour, exaggerated volumes, diamond patterns and ruffles, favoured by the desire for something edgy, unique and eccentric that is an alternative to the prevailing quiet luxury.