The irresistible chaos of Vivienne Westwood's FW23/24 collection
Between punk, DIY, Renaissance style, Old Hollywood and London
Vivienne Westwood's legacy continues thanks to the love and work of Andreas Kronthaler, who infused the brand founder's quirky, unique and quintessentially British vibe into the FW23/24 collection. After debuting at Paris Fashion Week, the new garments were brought to life on the streets of London, in places that are part of the city's everyday life, as the creative director himself explains:
"We shot the collection in Peter Jones- it was our favourite shop. It's a store for everyone. You can find everything you need. It's an English institution. We also shot at Sadie Coles' gallery in Mayfair, she's a friend and we were allowed to shoot with the art, Jonathan Lyndon Chase – great paintings & great sculptures. Then all around town – Carnaby Street, Soho. It's a mix of London, Londoners."
In the digital lookbook, photographed by Sabina Schreder, Vivienne Westwood's past, present and future collection is told through an irresistible chaos of Dame Viv's cherished themes, including a rock 'n' roll cauldron of eras, fabrics, patterns and silhouettes.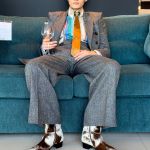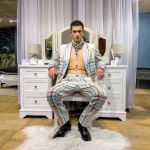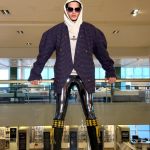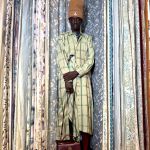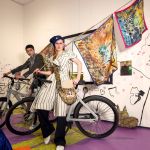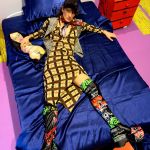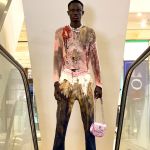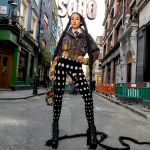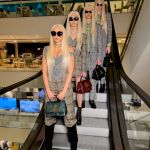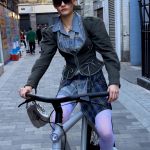 So between gypsy waggons, faded tapestries, antique wardrobes full of vintage furs, graffiti-adorned silk dresses and quilted blankets, you'll find eye-catching tailored suits, jeans with cut-outs at the knees, tartan jackets and miniskirts, popped shirts with a preppy-punk style tie, jumpers with the Orb, corsets, micro-cardigans, fluffy velvet dresses and DIY-inspired pieces. The result is explosive, magnetic, versatile and always unexpectedly different. Like London, Vivienne Westwood fashion is about contrasts, past and future, heritage and non-conformism, and it changes depending on the wearer without losing its recognizability. It is this piece of Cool Britannia that never ceases to fascinate, this flare of extravagance and uniqueness that is worth cherishing, defending and dressing.