Heaven by Marc Jacobs introduces the new spring 2023 campaign
Among old friends, fairy wings, metal bands, models and a "White Lotus" star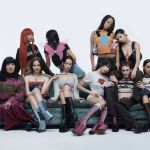 Since the launch of Heaven by Marc Jacobs in September 2020, the brand has always drawn on the many characters that have made up the Marc Jacobs universe over the past 30 years, muses, innovators, celebrities, cool people and friends, many of whom have become collaborators and stars of the various advertising campaigns, such as the new one dedicated to the Spring 2023 collection. Anna Sui, wearing a pink and green striped jumper and velvet trousers embroidered with a pansy, sits on a very long denim sofa right next to the American designer. The iconic '90s designer was also featured in the Fall 2022 images, but now she returns to the lens of photographer Ari Versluis, not only because she is a long-time friend of Jacobs, but also because she has reinterpreted the fairy wings from her Spring-Summer 1997 collection for Heaven and added a pearl necklace. They are handmade in his New York studio and will be available in a limited edition for $570 on marcjacobs.com from Friday 3 March.
In addition to Sui, models Paloma Elsesser, Gabbriette Bechtel, Salem Mitchell, Coco Gordon Moore (daughter of Kim Gordon and Thurston Moore of the legendary band Sonic Youth) and Jazzelle Zanaughtti, stylist Sandy Liang and jewellery designer Martine Ali can be recognised in the campaign's cast; Interview editor-in-chief Mel Ottenberg, hairstylist Evanie Frausto, creative director Ava Nirui, actress Tara Reid and White Lotus and Sopranos star Michael Imperioli, who wears a skull-print hoodie and black jeans with stitched combat boots. All the stars in the campaign wear grunge-inspired garments that have always been a hallmark of Heaven's aesthetic, such as graphic tees, crop tops, miniskirts, hoodies, jeans and cargo trousers, in black, white, blue, brown, purple, orange and dark red.
Highlights also include pieces from the Capsule Collection in collaboration with Deftones and streetwear brand Stray Rats. It is a range of T-shirts, knitwear, denim and accessories made special by archival photos and original graphics from the band, consisting of Chino Moreno, Stephen Carpenter, Abe Cunningham and Frank Delgado, who collected numerous hits in the late 1990s and early 2000s, such as the hit Change (In the House of Flies). In conjunction with the launch of the collection, an exhibition dedicated to the band will be held at the Heaven Fairfax shop's Gallery Space in Los Angeles from Friday to 4 April, featuring original artwork and album memorabilia. The Deftones will also perform in New York on Thursday 2 March at a still top-secret venue.