The first Italian actresses in a Skims campaign are Simona Tabasco and Beatrice Grannò
Mia and Lucia from the HBO series wear items from the Valentine's Shop collection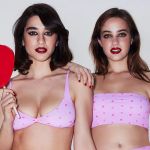 "I watched The White Lotus and had to have my girls!" Kim Kardashian wrote on Instagram announcing that she chose Simona Tabasco and Beatrice Grannò, Mia and Lucia from the series directed by Mike White, to star in SKIMS' new Valentine's Day campaign. After Victoria's Secret Angels Kate Moss, Rosalía and Brooke Shields, the brand's founder confirms her talent for finding testimonials capable of reaching a global audience, fishing among iconic faces and young talents that keep her up-to-date on the latest trends in fashion and culture. And who better than someone part of the cast of the most acclaimed series in recent months? After all, in just a few short weeks, White Lotus actors have been catalyzing attention everywhere they've been from Jennifer Coolidge winning her first Golden Globe to Sabrina Impacciatore conquering Saturday Night Live and appearing in JW Anderson's front row.
"I had so much fun shooting the SKIMS' Valentine's campaign! Having the opportunity to work alongside my friend Simona and to experience our first global fashion campaign together is something very special."
Grannò said in a press release, noting that the campaign is a special milestone in her career that is nice to share with someone like Simona who has been her friend for over 10 years.
Tabasco shares her colleague's enthusiasm:
"I love everything SKIMS stands for! To be featured in a global fashion campaign with Beatrice that celebrates friendship, women, and feeling empowered and sexy in your own body is so rewarding."
Their complicity is evident in the campaign's playful video where Simona whispers in her colleague's ear in Italian "Tutti indossano SKIMS" and Beatrice, soon after, confirms in English "Everyone wear SKIMS," taking up and updating in a 2.0 version the imagery of Italians as a passionate people seen through American eyes. The same mood of light, cheerful and girly sensuality is echoed in the images shot by Donna Trope, in which the actresses wear the new cotton sets and silk petticoats part of the best-selling Fits Everybody and Silk collections, revamped with vintage-inspired lace details and romantic in black and pink shades. These and all other garments from SKIMS' Valentine's Shop limited-edition collections will be available for purchase starting Jan. 26 on the brand's website.