Kylie Jenner's true strenght are her stylists
Alexandra and Mackenzie Grandquist's role in the influencer's image recomposition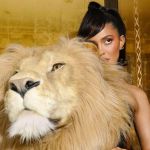 Recent appearances at Paris Fashion Week have many, insiders and noninsiders alike, wondering, "but who dresses Kylie?" The answer is Alexandra and Mackenzie Grandquist, styling duo who grew up far from the flashes of Los Angeles, Iowa, with a passion for research and skill in the world of men's fashion. Thanks to their choices, Kylie has ditched her "Instagram Baddie" aesthetic and the spotlight is back on the littlest of the Kardashians for her looks, after years in which scandals around her business and surgery have been more talked about than her high-fashion style choices. Previously involved in styling Travis Scott, Kylie's former partner, the Grandquist sisters are working to restore Kylie's fashion credibility through a balanced selection of relevant names in the emerging scene, vintage archive garments and looks taken straight from the runways.
The transformation of Kylie's looks begins to be seen from Kylie Cosmetics' April 2022 "Kendall and Kylie" campaign, in which the sisters wear the intangible garments of emerging designer Ren Haixi, and then continues to develop with a white latex look by Coperni. The Off-White wedding gown by Virgil Abloh might seem like a classic choice by Kin Kylie, except that the designer had just passed away and the style choice for the Met Gala 2022 red carper followed the vein of the American fashion anthology, where Abloh definitely made his mark. After casual shots capturing her wearing Coperni, Diesel, Marine Serre, Dilara Findikoglu, Acne and Loewe, at Kourtney and Travis's wedding in Italy she chose pieces from Dolce & Gabbana's archives interpreting the Mediterranean aesthetic in her own way in collaboration with the Italian fashion house, but the real high-fashion transformation comes with the Halloween campaign for Kylie Cosmetics. In the guise of a Frankenstein Lady, Miss Jenner wears the satin ribbon and tulle dress from the Jean Paul Gaultier by Glenn Martens Couture collection. From there, the fashion bar rises higher and higher, so much so that the Grandquists receive the opportunity to rummage through the Mugler archive for the CFDA Awards, where they choose a semi-sheer pleated bodice gown with matching sleeve and black skirt with a high slit. After Schiaparelli's front-row with the most talked about garment on the web, we can expect more satisfaction from the creative duo.
"There is a lot, but above all an infinite amount of trust and love, we never stop the research process and try to stay in tune with her as much as possible. We've always loved the fact that Kylie is able to create so many different vibes and looks-it's interesting, fun, and challenging in a good way for me." tell Alexandra and Mackenzie in a recent interview with Vogue, talking about the opportunity to follow such a chameleon-like figure, who is young and sensitive to image changes, but needed to ground her public persona on more solid roots. In her 25 years of life, Kylie has experimented a lot with fashion, and thanks to Mackenzie and Alexandra she feels more involved and collaborative when it comes to creating looks.