Le controversie attorno alla collana a cappio di Kylie Jenner
Il gioiello della collezione Fall/Winter 2022 di Givenchy non fitta con il pubblico della celebrity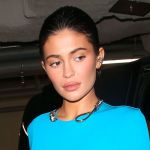 Kylie Jenner is regaining ground among the trending topics in fashion scandals. After the Schiaparelli lion's head, the influencer wore a Givenchy full look consisting of an electric blue dress, sparkly pink boots and a noose necklace that had already appeared during the brand's SS22 show, which stirred public resentment against the so-called suicide aesthetic. Was it more of a mistake to produce the necklace or put it on Kylie Jenner without considering the reaction of her audience?
This is not the first time the mainstream public has reacted negatively to these symbols. In 2012, Saint Laurent with its Razor Hoodie that appeared in the FW12 by Hedi Slimane collection had attracted negative comments, but without social to drive the fashion conversation, public outrage did not reach the broader public, rather it became a cult object in the brand's niche. What happened to Burberry in 2019, on the other hand, is thanks to the social echo. Riccardo Tisci, guilty of sending a model with a looped braided laces sweatshirt on the F/W 2019 runway, ended up at the center of a shitstorm for which the brand had to apologize in an official statement. Today's fashion police, Diet Prada, had pointed out how Givenchy's necklace retraced the same path, riling up the public against Givenchy accused of failing to learn from Burberry's mistakes. Liz Kennedy, the model who wore the loop necklace look on the runway in October, had said, "Suicide is not fashion. How can you overlook that fact and think it's okay to do it, especially in a line dedicated to girls and young people.... Not to mention the rising suicide rates around the world."
Matthew M. Williams' SS22 references were directed to the BSDM world, which was able to portray a sense of suffocation in response to the constraints of the pandemic period, a sentiment also shared and interpreted by other brands such as Versace, Balenciaga, and in its own way Mugler. The necklace was consistent in the context of the collection, which did not incite suicide. The fact that Kylie Jenner wore it on Monday serves up the controversy on a silver platter to the general public, and may be the result of a marketing strategy curated by Kylie's PR together with Kylie's stylists to continue to keep the influencer at the top of the trending topics during Couture Week. The same necklace worn by FKA Twings for example, would not have gotten the same attention.