Chiara Ferragni unveils the brands that will dress her at Sanremo 2023
The digital influencer announced the names with a story on Instagram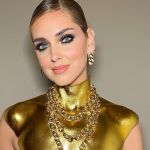 Ever since Chiara Ferragni's presence has been confirmed as the co-host of Sanremo 2023 alongside Amadeus for as many as two evenings (the first and the last), the hype has skyrocketed, not only about how she will fare on stage in the unprecedented TV role, but, above all, around her possible outfits. Having always been accustomed to seeing her constantly changing make-up, hairstyle and outfits, even ranging between different styles, her fans and people who know her even superficially expect something spectacular, glamorous and original, capable of making the kermesse audience dream and talk for days. Just scrolling through her socials is enough to dream of her in Versace, Giambattista Valli, Mugler, Lorenzo Serafini, Alberta Ferretti, maybe Louis Vuitton, so when a few hours ago on a story posted on Instagram she asked, "Whose clothes do you think I'll be wearing in Sanremo?" the guesses must have been plenty. Her nearly 30 million followers, however, certainly did not expect it to be Ferragni herself who immediately revealed, despite the fact that the Festival is still just under three weeks away, the brands that will dress her at the Ariston are Dior and Schiaparelli:
"I confirm that one of the two designers is Maria Grazia Chiuri for Dior. The other brand will be Schiaparelli, with dresses designed especially by Daniel Roseberry for Sanremo. I have a crazy relationship with both brands and designers, and I can't wait to show you what we have created together. Sanremo, here we come!"
On second thought, the clues were already there. In the last few days, in fact, Chiara had flown to Paris and posted some pictures of herself in the French capital where we now know she did fittings for her Sanremo dresses. In the first post we see her inside the maison Dior, while the second is an ironic video in which she tries to walk, balancing precariously, in a pair of black cuissards from Schiaparelli's Fall/Winter 2021-2022 collection, characterized by a surrealist detail that reproduces toes in gold version and a vertiginous platform. Who knows if these will be the shoes chosen for the event and, if so, how will Chiara make it down the famous Sanremo steps? A real mission impossible.
Both brands have a place of honor in the heart of Ferragni, who has sported them during fashion weeks and in important moments of her own. For example, she chose a wedding dress with a lace bodice and a fluffy skirt created by Maria Grazia Chiuri for Dior for her wedding to Fedez, a romantic creation in shades of green to present the docureality The Ferragnez, and a midi sheath dress for the awarding of the Ambrogino d'oro in 2020. The looks designed by Daniel Roseberry for Schiaparelli, on the other hand, marked a sort of chic and even more glamorous turning point for Chiara, who wore them when she was awarded Woman of The Year (remember the stunning gold and metallic corset that traced the shape of her body?) and at the Paris fashion shows, always leaving her stunned by the wow effect of those outfits. We are sure that even when Chiara descends the Ariston staircase we will be breathless.