What Michelle Obama's latest looks tell us
A book tour and a declaration of intent
A Roksanda x Fila jacket, high-waisted black trousers over an asymmetrical light blue bodysuit by Christy Rilling, black pointed ankle boots by Stuart Weitzman and long, half-braided pigtails: this may look like Beyoncé's outfit on a quiet New York afternoon, but it certainly seems not the outfit Michelle Obama would wear to the Fox Theatre in Atlanta to launch her new book, The Light We Carry. But at 58, thanks to the valuable help of stylist Meredith Koop, the former first lady appears in a new light, opting for sporty and playful looks, glamorous brands and popping colours, light years away from her days in the White House and ever closer to the poses a fashionista in her 30s. «When is a book tour not just a book tour? When it's a platform for literally remaking an important public figure, when it signals to someone whose image has been captured for posterity at one stage of their life that it's time to move on» - Vanessa Friedman wrote in the New York Times, heralding the beginning of the change we had only glimpsed on the other side of the globe.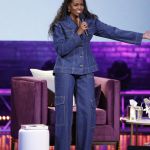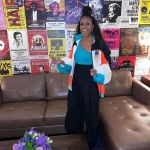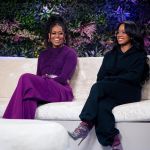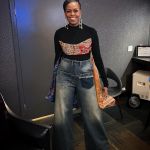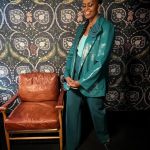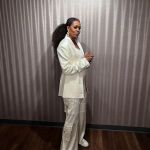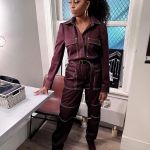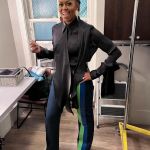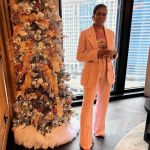 At the first stop in Washington D.C., during a debate with Ellen DeGeneres, Michelle Obama wore a denim suit by Ganni with a fitted jacket and wide leg denim, for the Chicago stop she opted for a workwear suit by Stella McCartney, while in Atlanta the choice fell on an elegant ensemble in faux leather by Palmer Harding. But the transformation began earlier, in New York, with a rich yellow two-piece by Proenza Schouler, which she wore for an appearance on the Today show. In Washington, D.C., it continued with a flowing black and magenta zebra-striped shirtdress by Versace over fuchsia trousers, and finally in San Francisco with Balmain velvet trousers and a tailored Diana Ross T-shirt. The common denominator are trousers, almost a statement of intent after years of longuette dresses that hindered the stride by constricting the hips, while the hair is left natural for the first time, afro, in thick braids and no longer straight.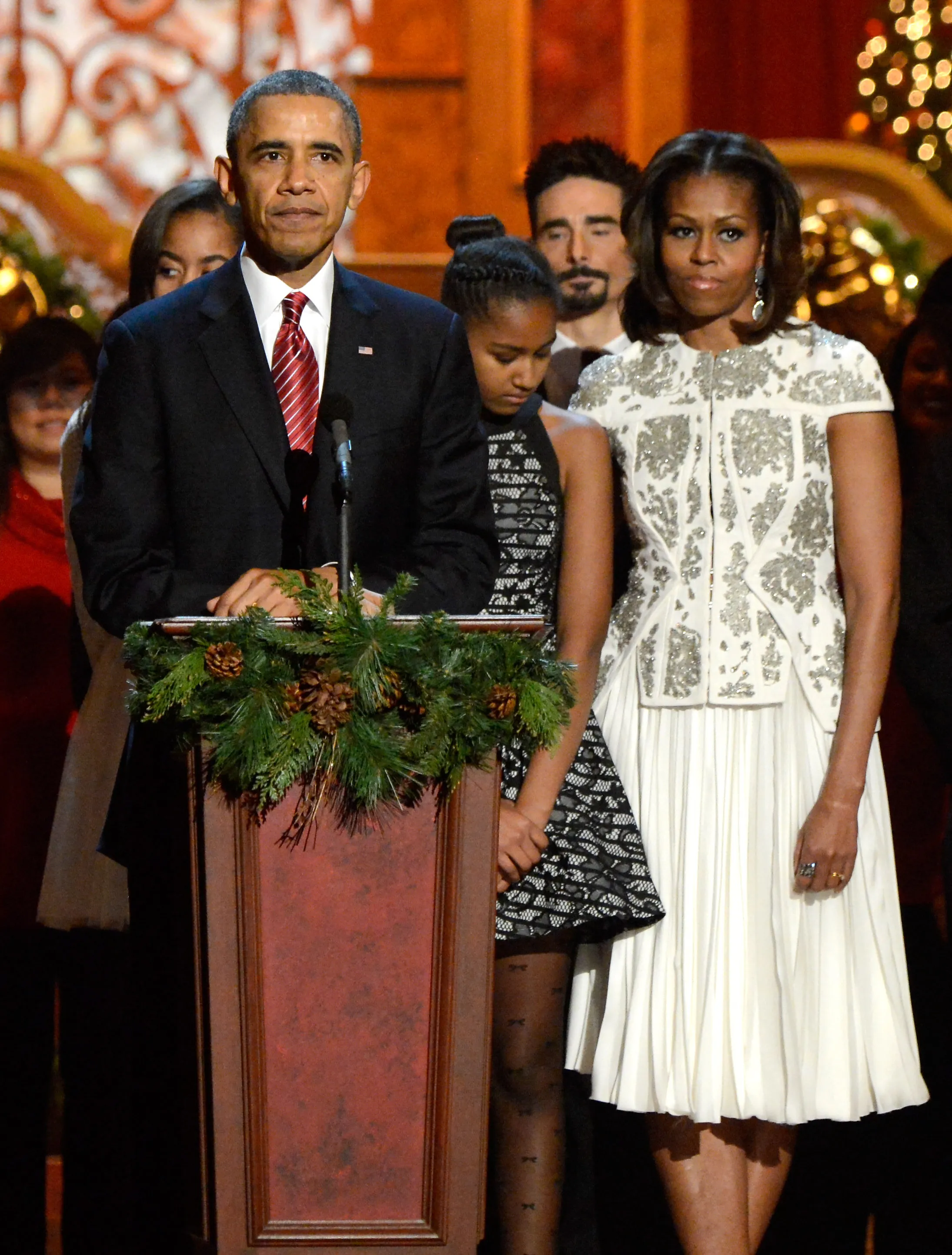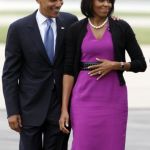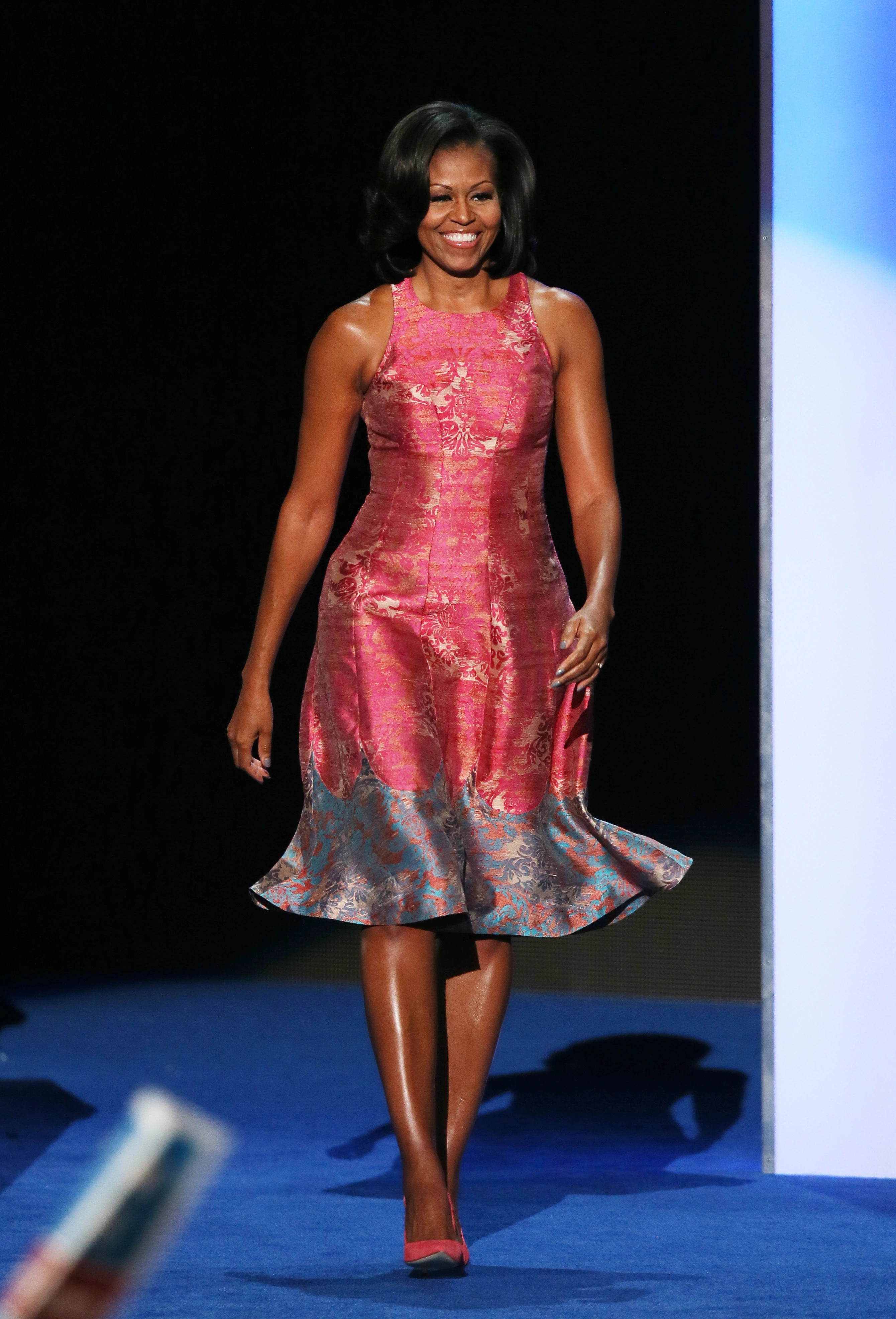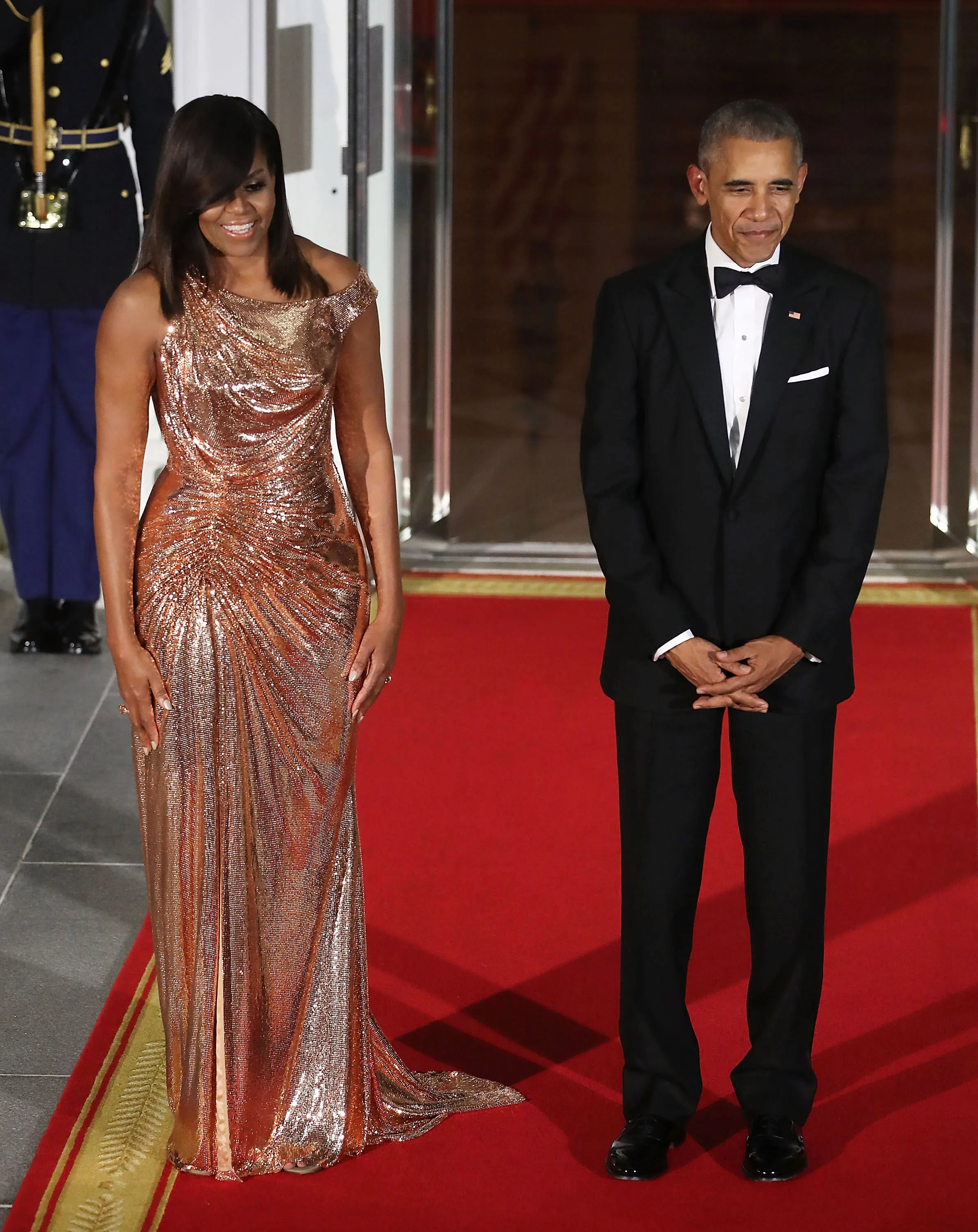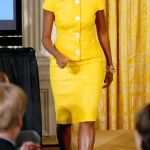 That there was something new (and not just a new book) was obvious. As she told Ellen DeGeneres during a tour stop, Obama had already considered braiding her hair in the White House because it would be easier to manage, but decided against it because she thought the American people were "not ready". But now that the burden of First Lady is over, little remains of the figure, as imposing as she was reassuring, at the former president's side, immortalized by painter Sharon Sprung in a sky-blue evening gown with a Bardot-style neckline in a portrait that still hangs on the walls of the White House, witness to an era of political and social change. After all, as she wrote in The Light We Carry, she had to take special care of her image for eight years, aware that as the first black first lady she was rewriting tradition and future: between what came before and what might come after. Every decision she made was seen as a public event, and so was every piece of clothing she wore and every style decision.
Whereas during her husband's tenure she had used the spotlight to focus on a range of independent names - like Jason Wu, Maria Pinto, Rachel Comey, Brandon Maxwell - who represent the American melting pot, outside the walls of the presidential palace Michelle has traded in her floral dresses and J.Crew cardigans for sweeping suits and natural hair, in a gradual process that over the years has included glittery Balenciaga boots and monochrome looks. Especially now that the Trump mandate has underscored the incompatibility between Republicans and Democrats, Michelle Obama's outfit is as political as ever, especially when we remember how often the media fantasized about her running for president. There is no longer any sign of the delicacy and thoughtfulness that once led her to shun the limelight so as not to outshine her husband, or of her conformity (and flattening) to the canons of traditional first ladies, even to the detriment of her own character. From a focus on sustainability - by choosing brands that are at the forefront of environmental issues, like Marine Serre, Ganni, Stella McCartney - to a new and modern portrait of women in power, the lawyer's choice has the consensus of a multitude of women struggling with the wreckage of the patriarchal system and no clear idea of how to rebuild. And when Vogue stylist Meredith Koop described the former First Lady's style choices as a result of "wanting to feel more and more comfortable", we can not help but wonder: what would Michelle wear if she were president?