The must-have boots for fall/winter 2023 season
Bold new silhouettes and evergreen revisited classics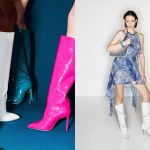 The wind is picking up, the sun is giving way to rain, the temperatures are dropping and even the most die-hard of us are leaving the sandals in the back of the closet. It's time to go shopping and give our outfits a twist for fall/winter 2022 with new boots. The latest fashion shows have proposed all kinds and for all needs, from the now classic cowboy boots to those that look like something out of a 1970s polaroid, passing through cuissards, Kim Kardashian's favorite. Juggling the models may not be easy, but G-club comes to your rescue, suggesting the most interesting of seasons.
Seventies calling
Dig up old photos of moms and grandmothers in the 1970s or scroll Instagram and Pinterest for inspiration because that's when the coolest boots for fall/winter 2022 come from. They have warm, earthy colors like autumn foliage, a rounded toe, and a wide heel reaching below the knee. The first to bring them back into the spotlight was Alessandro Michele for Gucci, followed by Louis Vuitton, Fendi. If you are looking for a classic that will never leave your closet, this model is a real look-saving wild card. The lucky ones will inherit the boots from the family, all the others get ready to swipe your credit card or ask Santa Claus to find them under the tree.
Killer Boots
If you are looking for a statement shoe, the right choice are the boots from Diesel FW22 collection. The features? They have sharp heels and toes, a strong and super sexy look, they can be in classic black leather or denim, with studs, zippers or sparkling details, but they always leave a mark. To enhance them to the maximum, the advice is to wear them with miniskirts, very short dresses, leggings or skinny pants, as if they were simply an extension of the leg. Killer effect guaranteed!
Cowboy boots
Emrata and Kendall Jenner love them, and even Lady D couldn't do without them. For a few seasons now, cowboy boots have returned to our wardrobe, accompanying us from summer to winter. The traditional camperos remain timeless, but for the coming months the runways suggest opting for sharper lines and more minimal declinations. Less embroidery and prominent stitching, made in fine leathers or suede versions, and neutral colors go perfectly with jeans or a pleated skirt. Those who focus on sustainability can also find them at Ganni, those who prefer a small price tag buy them at Zara and all the other fast-fashion stores, but the most beautiful cowboy boots models were offered by Chloé, Celine, Missoni and Isabel Marant.
Second skin-like Cuissards
From the French cuisse, thigh, the boots that were born to allow men of yesteryear to be more comfortable on horseback were also trending last year, but they still remain among the most feminine styles today. On the runway we saw them in pastel shades at MM6 Maison Margiela, total black at Givenchy, check at Burberry, and vinyl at Coperni. They come up to the thigh and often past the knee, like deluxe tights. Julia Fox, Kim Kardashian, and Rosie Huntington-Whiteley love them, but they're not the only ones. On Stylight, thigh-high boots are among the trendiest of the season with a 45% increase in searches.
Under the rain
Rain always has a certain romantic appeal. Blame it on Hollywood musicals and the Glastonbury festival, which has restored certain magic to rubber boots, rain boots, especially those by Hunter. Wearing them one can pretend to be cool like Kate Moss or opt for the funny and chic model by JW Anderson and merrily sing Singin' in the rain like Gene Kelly. They are so popular that, surprisingly, Chanel also offered them, thigh-high, like real fisherman's galoshes. Just for the daring.
Motomami
Call it Motomami trend or Bikercore, it doesn't matter. The style inspired by the biker aesthetic is here to stay and invades every element of our outfits, from jackets to boots. The most coveted model? The one from Miu Miu, with a round toe and multiple buckles, declined in black and brown. An equally cool alternative is the one proposed by Givenchy.