Miu Miu has "Private Wishes" for the festive season
The brand presents the holiday campaign shot by Tyrone Lebon
Miu Miu unveils its new Holiday collection with Private wishes, a series of intimate and minimal portraits signed by Tyrone Lebon with art direction by Lina Kutsovskaya and styling by Lotta Volkova. The protagonists are three young talents Esther McGregor, Mona Tougaard and You-mi Lee, dressed in the delicately provocative style typical of the Milanese brand. The garments are cut, spliced, in a fusion of seemingly contradictory elements that give rise to a minimal, yet archetypically feminine aesthetic, a soberly celebratory frivolity with whispered, irresistible charm.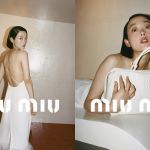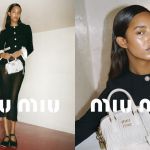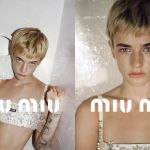 It's all a game of proportions and dualisms: oversize and miniature, functional and luxury, playful elegance and accessories, fully buttoned garments and unfastened and flowing fabrics, masculine and feminine coexist in the desires kept intimate and hidden by Miuccia Prada's brand, which continues to tell the story of the dualisms that make life in this historical period a multifaceted diamond and to explore the reinterpretation of the canons of different aesthetics part of the minimalist fashion tradition. The collection that plays with contrasting nuances is called Miu Miu Private Wishes and juxtaposes ballet flats, heeled sandals, and cube-heeled boots with iconic bags, such as the Bauletto or the new entry Wander, declined in different sizes and colors that start from ethereal shades of white and darken to the most intense black. The denim is ripped, the embellishments romantic, and the balance of the different seems to perfectly hold up Mrs. Prada's vision of modern femininity amidst the mixture of pearls, feathers, and glitter. The result is a luxurious and playful uniform designed to satisfy individual and delicately provocative fantasies, in which there is no shortage of reflective textures and classic matelassé materials, the symbol of the brand.
The campaign shot by Tyrone Lebon reflects this interplay of opposites through double shots, dialogues between reality and the dream world, public and private, minimalism and romanticism in which Esther McGregor, Mona Tougaard, and You-mi Lee seem like unattainable muses lost in their imaginations as the festive scenery begins to peep onto the screens.