A visual journey among beauty and sparkle of "Bulgari - Inside the dream"
The docufilm starring Zendaya and Chiara Ferragni telling the story of how brand's High Jewellery is created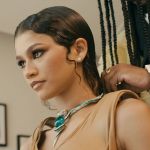 After being presented at the Toronto International Film Festival, Bulgari - Inside the dream arrives on Prime Video. For the first time, the Roman Maison opens its doors to the cameras and takes us on a journey to discover the process by which its precious jewels are created: from the concept to the first sketch on paper to the excitement of the red carpet, where stars of the caliber of Anne Hathaway and Zendaya wear them.
There is the phase of searching for precious gems in Jaipur, India, with the rigorous method of selection; it is followed by the phase of designing necklaces, bracelets, brooches, rings and earrings at Bulgari's headquarters in Rome; it continues with the handcrafted production at Bulgari's Workshop; and, finally, the jewelry comes to life, worn by stars like the ones we see in the docu-film.
The exceptional guide is Lucia Silvestri, the brand's creative director, who learned expertise from the Bulgari family and with passion, determination and talent made her way in a largely male-dominated industry by reaching the top of the field. Also known as the woman who buys the world's most extraordinary gemstones, Lucia shows us how and where the magic happens, in a high bling bling visual tour. She is the mastermind of true jewelry icons, one-of-a-kind pieces capable of encompassing together, luxury, beauty such as the Serpenti Hypnotic Emerald necklace, featuring a 93.83-carat cabochon-cut Colombian emerald set with diamonds and emeralds, the same one we saw around Zendaya's neck on the red carpet at the 78th Venice International Film Festival. The Euphoria actress is also among the co-stars of Bulgari - Inside the dream, along with Chiara Ferragni, Lisa from Blackpink, Lily Aldridge and Priyanka Chopra Jones, an all-female cast of diverse stories and talents who share the same love of beauty and sparkle at least as much as Bulgari's stunning jewelry.