Trends to buy for back-town shopping
From suit vests to knitwear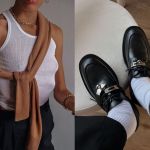 Okay, it's hard to admit, but it's an undeniable reality: summer is winding down and, for most of us, the vacations are archived at least until Christmas. The only consolation we have left in these days of returning to the city and the daily grind? Planning the wardrobe to show off in the coming months, browsing through the proposals of fashion weeks dedicated to FW22, Y2K and Instagram fashions what trends to adopt to give a twist to the boredom of the office and the first days of school. Just sell something we are tired of wearing on one of the many second hand platforms and make room for sweaters, undershirts, pants and shoes that will make us, at least for a season happy and a little more like who we are or want to be.
Juggling the new clothes designed by designers and loved by influencers may not be easy, so G-Club gives you a little map to navigate the back-to-town trends. Read on, click on the galleries and keep your credit card handy.
Suit Vest
Straight from the 1990s, an item that was worn by both those who preferred a grunge style like Drew Barrymore, minimal chic like Gwyneth Paltrow or intellectuals like Julia Roberts is back: the suit vest. The runways have been repurposing it for a couple of seasons now and confirming it as an element to give our outfits a twist in the coming months of 2022 as well. From the oversized one by Michael Kors to the cropped model by Calvin Luo to the one with the asymmetrical closure by The Frankie Shop, the variants available are many and have become a wardrobe essential for contemporary influencers such as Kendall Jenner who likes to pair it with wide-leg and high-waisted pants; Zoë Kravitz who wears it on bare skin with either jeans or a satin longuette, perhaps with white socks and chunky loafers on her feet; while Rina Lipa pairs it with elegant ton sur ton pants thus forming a perfect power suit and this is precisely the choice to copy, the one that enhances the intellectual chic allure of the elegant vest. So we can wear it, preferably with a tailored cut, without anything underneath and with a maxi blazer on top or, in a more casual version, with a shirt and a knit skirt down to the feet in a combo that Meg Ryan of the 90s would have loved.
Knitwear
Knitwear for autumn-winter? Groundbreaking? Maybe, no. But knitted garments, whether it's a maxi cardigan to wrap ourselves in on the way home from school, a wrap-around maxi skirt or a fluffy, colorful sweater to give the office boredom a bit of a lift, are that warm embrace we all crave when the temperatures start to drop. That must be why Gigi Hadid has decided to debut her own knitwear brand called Guest in Residence in the coming months. Catwalks and influencers offer many easy-to-copy ideas. Those who love Scandi chic will go for neutral tones and oversized silhouettes like those loved by Rosie Huntington-Whiteley; those looking for something more fun and colorful will be inspired by Emma Chamberlain and Fanny Ekstrand Tourneur, who both choose designs by Ganni; while those looking for something a bit boho that will remind them of if not the heat at least the sunny mood of summer will add garments by Gabriela Hearst, Etro and Chloé to their shopping list.
Bomber Jacket
Although its roots lie in military clothing, the bomber jacket (model bomber MA-1) or aviator jacket (do you know Amelia Earhart, the first woman to fly solo over the Atlantic?) remains a must-have of the fall wardrobe that has the power to instantly make our looks cool. Accomplice to the return to the screens of Maverick from Top Gun and, above all, Prada, which has made it an essential element of its FW22 collection, declining it in leather, nylon and decorating it with sequins in the shape of flowers and feathers, this outerwear is the right item to face the first cold weather, but also the less severe frost. It is a great alternative to the usual down jacket and goes well with everything from cocoon dress to jeans, cargo pants to lace skirt. A word of advice? Choose it oversized, even parachute, in classic black, olive green, gray and blue, but also in refined pastel shades or vitamin colors. To find the perfect pattern and the right inspiration do a virtual moodboard with proposals from Versace, Loewe, Sacai, Louis Vuitton, Raf Simons, Jean Paul Gaultier and Givenchy.
Tank Tops
Pointless that 2022 is the year of the tank top. The ultrabasic one, preferably white. It dominated the summer and will continue to do so in the coming months. The fashion weeks dedicated to autumn-winter already predicted it, bringing the most essential garment ever to the runways of Prada, Bottega Veneta, Chloé, Acne Studios, Bevza, Conner Yves, Telfar and Sacai. Pairing it is super easy. We can take inspiration from the 90s minimalist offerings of Calvin Klein, Helmut Lang, Ann Demeulemeester and Jil Sander or from established influencers such as Pernille Teisbaek and Mirjam Flatau who wear the tank top under an oversized shirt, blazer or cardigan, with jeans, in leather pants and even with a sheer skirt as Miuccia Prada and Raf Simons teach us. To carry the camisole from warm dog days to cooler ones, just add layers and swap sandals and flip-flops for loafers and boots.
Equestrian
If the world of tennis was the most chic inspiration for a chic summer option, the equestrian aesthetic will be for the colder months. You don't have to have grown up among riding stables and horses like Bella Hadid or Charlotte Casiraghi to try it, just browse through shots of Queen Elizabeth and Lady Diana at Balmoral or look at the FW22 runways of Chanel, Burberry, Rosetta Getty, Tory Burch, Hermès, Adeam, Off-White and Tod's. Essentials for embracing this style are knee-high boots, slim-fitting pants and leggings, single-breasted blazers, quilted jackets, tweed coats, patterned scarves to use as scarves or bandanas, and leather gloves. Artfully putting these garments together will be like going away for a weekend in the English countryside even if, in reality, we are glued to our desk in the office.
Ultra-Baggy Denim
For autumn-winter, proportions are becoming wider and oversized from jackets with generous silhoettes presented by Peter Do and Louis Vuitton to full skirts by Bottega Veneta, from Simone Rocha's romantic dresses to Prada's bomber jackets. The new proportions also infect the world of denim. Goodbye skinny jeans and welcome to straigth and baggy styles, even with a very low waist. In the early 2000s Gwen Stefani and other pop stars were balancing their exaggerated shapes with crop tops and skinny pieces, brands like Missoni and Celine are following the vintage teaching, while celebrities and influencers from Bella Hadid to Tiffany Hsu prefer the contemporary interpretation that wants the fit completely oversized. So green light to baggy jeans, even cargo jeans (remember the very popular model from The Attico?), with pullovers, men's cut shirts, blazers, flying jackets and vests. As long as they are maxi. Talk about giving fashion all the space it needs.
Platforms
From the 1990s to today, passing through the now very popular Y2Ks, platform shoes are everywhere and invade every model: from sandals to loafers to boots. Just as many brands are offering them. Givenchy, Balmain and Rick Owens choose chunky soles for their sculptural boots; Valentino, Del Core and Versace for patent leather sandals; Heaven by Marc Jacobs, Gucci and Nolita for mary janes and loafers. Their merit is that they go with everything from miniskirts to knit dresses, baggy jeans to catsuits. The advice? Wear them with socks for a Dark Academia style or take inspiration from pop stars like the Spice Girls and old-fashioned teenage legends like the Bratz and Emily The Strange.
Tall Boots
We don't have to go to the extremes of the ultra-oversized, thigh-high model by Y/Project recently sported by Rihanna, but the cold season wants us to add a nice pair of tall boots to our closet. And we're not necessarily talking about inches of heel. Even for those who can't give them up, it's time to archive or sell on Vinted the ankle boots of our indie sleaze addicted years and choose something else. Chunky moto boots, thigh-high boots, platform Chelsea boots, stilettos, riding boots, kinki boots, pointed or squared, leather, patent leather, suede, black, colorful, ... the choice is vast and should be made according to our personal style or the mood of the moment. There is only one thing to remember: the leg of the boot should never be lower than knee height.
Knee-high stockings, hold-ups and garters
A little bit athleisure, a little bit preppy and a little bit ugly. Fashion 2022 has rediscovered a love for socks, especially terry, white, in short, the classic socks you wear for a game of soccer or tennis. The most supportive of the trend is undoubtedly Bella Hadid, who spent most of the summer out and about with her boyfriend and inseparable accessories pulled up to below the knee. The youngest of the Hadid sisters wears them with everything: miniskirts, shorts, jorts, minidresses, sneakers, heeled sandals and loafers. An unexpected solution that shyly, from Iris Law to Emma Chamberlain, other it-girls are starting to copy, pushing a little further the already beloved short socks that everyone on Instagram has always sported, declining them according to their mood of the moment and that Miu Miu, David Koma and Dior have already brought to the runway. Socks are not for you? No problem, if the mood is sexier just follow Hailey Bieber, Blumarine and Dolce & Gabbana by adding hold-ups and garter belts to the shopping list, for daring looks that will make our winter evenings special and a hint hot.