Why the "Three word method" is the best solution to survive TikTok "cores"
Here's what the method developed by stylist Allison Bornstein that won TikTok is all about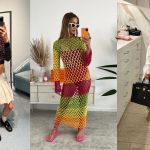 Although we consider Coco Chanel our fairy godmother, Vogue our bible and spend 24 hours a day studying Chiara Ferragni's and Camille Charriere's feeds, we don't always manage to juggle the rain of more or less cool "cores" and aesthetics that pop up with every blink of our eyes. Lost among gorpcore, indie sleaze and barbiecore, we often chase fads and the latest trends losing sight of what really suits us. If celebrities can rely on stylists, make-up artists and a bevy of advisors, we only have a smartphone and a few magazines. So how do we develop a true personal style? According to Allison Bornstein, the answer is the Three word method. As the name suggests, the method devised by the New York-based stylist consists of using three adjectives that describe our usual looks or those we would like to sport, a clear and concise definition that will serve as inspiration for assembling everyday outfits or as a guide for buying new pieces.
TikTok fell in love with this method because of its ease. The first step is to open our closet, identify the items we wear the most and describe their aesthetic. Is it oversize or slim fit? Tailored or casual? Romantic or minimal? So we identify the first word that serves as the "outfit base," while the other two add a twist, a hint of uniqueness that shapes our personal style and are found via a small moodboard made up of quotes and outfits by stars we like and represent. The words we choose do not have to be too specific or rigid, they can also be simple vibes and can change as we evolve. If we really run out of terms and suggestions, we can be inspired by celebrities whose style we admire. Bornstein, in fact, has developed a list of them, associating three adjectives for each. A few examples? Zoë Kravitz is sexy, effortless and edgy; Rosie Huntington-Whitely minimal, neutral and soft; Hailey Bieber sporty, sexy and oversized; Alexa Chung preppy, whimsical and edgy; Chloë Sevigny whimsical, unexpected and tailored; Emma Chamberlian is casual, unexpected and cartoonish.
Will three simple words save us from fashion oblivion? Maybe. Surely they will help us reduce shopping regrets, unnecessary waste and save money by filling our wardrobe with strong, essential pieces that, artfully mixed, will result in outfits that reflect our most authentic selves or, at least, what we would like to show others.