Bella Hadid is the new face of Swarovski
She stars in a series of pop and colorful portraits showing the versatility of the brand's jewels
Swarovski is casting Bella Hadid as the star of its new advertising campaign by Creative Director Giovanna Engelbert. With her chameleon-like looks, the model reflects the multifaceted character of crystal and the new approach to free and fluid dressing that challenges traditional codes:
"Bella Hadid sums up the individualistic and transformative attitude of a new global generation. She is a multifaceted character who evades the boxes of rules and conformity. She goes from sporty to glamorous while remaining the same girl – the same Bella – with confidence and authority. In that sense, she conveys the values of Swarovski to perfection. Today, crystals are a dynamic part of our everyday wardrobe: a way of accentuating your individual style in a way that can be as casual as it can be elaborate. Bella is the poster girl for this state of mind".
Mert Alas and Marcus Piggott have taken six pop and colorful portraits of Bella, reflecting the transformative and versatile nature of Swarovski crystals through different styles and shades. The energetic and invigorating properties of yellow are perfect for sporty Bella's gritty mood as she wears a top with cut-out details, a high tail, Matrix earrings and Harmonia, Millenia and Ortyx necklaces alongside crystals from the Lucent family. Pink captures the sparkling and feminine codes of Sweet Bella. A mood that in terms of style translates into space buns, and corsets, combined with a mix of bold gems from the Lucent, Orbita, Millenia and Gema collections. The same crystals are tinged with green for a cool, genderless and easy look. Blue, on the other hand, dresses the more serene and bohemian spirit of Bella, which also becomes synonymous with effortless elegance. Sunshine Bella expresses the joyful, party-perfect glamour of Swarovski and its shiny, metallic effect stones. Transparent, finally, redefines the concept of traditional elegance with a bold modern twist represented by the Harmonia necklace with its oversized cushion-cut crystals in a suspended frame that give the illusion of floating.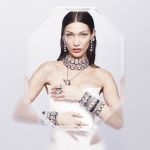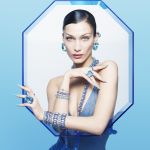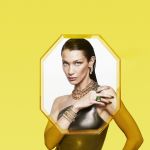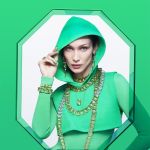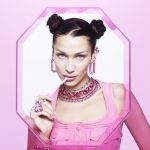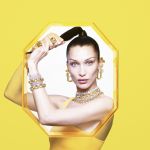 Bella is delighted with the campaign and her new role as brand ambassador:
"I was very familiar with Swarovski already. It really is such a timeless and iconic brand. I love the new collections and what the brand has been doing, especially these past two years under the creative vision of Giovanna, and I really see Swarovski as the contemporary jewelry brand of the future. Jewelry is about expression and celebrating individuality – Swarovski celebrates all people and the idea of modern glamour, and I love that."