Pierpaolo Piccioli and Pantone create a new shade of pink
"Valentino Pink PP" dresses up every detail of the autumn/winter 2022 fashion show
For Valentino's autumn/winter 2022 collection, Pierpaolo Piccioli focuses on a single color, hot pink. A shade, developed in collaboration with Pantone, so catchy and energetic that it deserves its own name, Valentino Pink PP, and invades every detail: from the location, Carreau du Temple in Paris, to the fashion show invitations created with artist and writer Douglas Coupland; from the creations that alternate on the catwalk to the power suit with floral appliqués worn by Zendaya, Maison's muse, who applauds in the front row.
With this partnership, Pantone confirms that it is increasingly focused on establishing its hegemony over colour schemes, developing exclusive colours for companies and celebrities as a brand identity (remember the Ultra Black presented at the same time as Nas' single of the same name?). Thus Valentino moved from the signature red to pink. Returned to popularity during the 2010s as the colour most loved by Millennials, it has gone from being a feminist symbol of the #MeToo movement to a fundamental element of dopamine dressing, celebrated in the collections of various brands, such as Jacquemus, which dedicated a Christmas capsule collection to it in 2020. Inspired by Lucio Fontana's studies on monochrome, Valentino's creative director has given the girlie shade a new meaning, a sort of political statement on the saving power of beauty which, in this difficult moment in history, speaks of love and inclusiveness:
"Pink is the first colour I thought of because it is always present in my collections. [...] Pink as a manifestation of the unconscious and a liberation from the need for realism. The accumulation of pink elements is such as to eliminate the visual shock to bring out, together, the unique character of the person, expressed by the face and the eyes, and the work on the pieces of clothing: the signs that shape them into a silhouette, the textures that give them consistency, the decorations that are part of the construction. The subtraction is, in fact, amplification, magnifying both the humans and the clothing. A variety of bodies, attitudes, and physicalities, enhanced by the monochromatic palette, bring such a vision to life."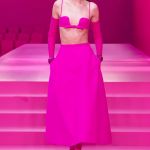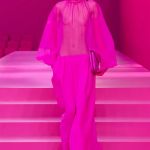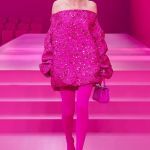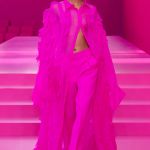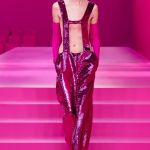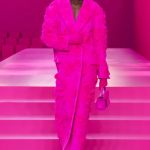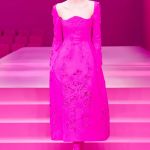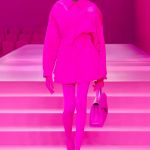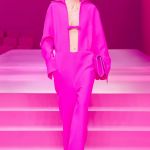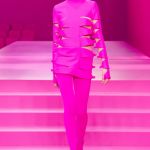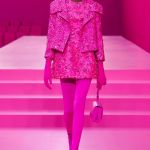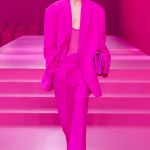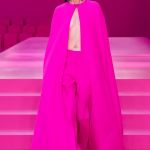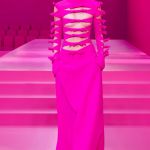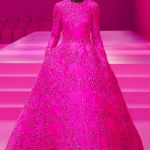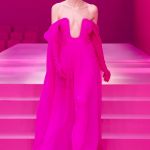 Radical. Monochromatic. Beautiful. Valentino's La vie en rose is the result of a precise work of subtraction that uses monochrome to reveal the faces, bodies and details that make each person unique, but also the cuts, decorations and textures that make the garments in the FW22 collection so special. To the tune of the main theme of In The Mood For Love, couture silhouettes alternated on the catwalk, reinterpreted with ready-to-wear materials: jumpsuits with graphic necklines, cargo trousers, transparent blouses, T-shirt dresses made of sequins, soft pullovers matched with sculptural skirts, coats covered with 3D floral work, cut-out bustiers, spectacular capes, suits, marabou furs and dresses encrusted with crystals, flowers and bows. All matched with full-length tights and vertiginous platforms.