The must-have accessories for fall-winter 2021-22
From maxi bags to chunky boots
Nothing more than the right accessory can give a twist to our outfits. Its power is enormous: an earring can brighten up a total black look, a funny hair clip can soften the seriousness of a formal suit, a bag can hide everything we need to survive the daily grind and a pair of shoes can give us that extra touch of confidence to face a new challenge. Each season, however, change the shapes, colors and sizes. G-Club helps us to find the ones to add to our shopping list.
Here are the 5 must-have accessories for fall-winter 2021-22.
Maxi Bags
For a while now, mini bags were at the top of our shopping list (remember the Chiquito by Jacquemus?), but in the upcoming season, the must-have will be the maxi bags. We should make room in our closet for the XXL models proposed by Proenza Schouler, Fendi, Tod's, Loewe and for the Cleo bag by Prada that returns for FW21 in a larger version and is available in both brushed leather and jacquard knit.
Chunky Boots
There are those who, like Chanel or Ambush, inspired by ski chic, have proposed furry shoes on the catwalk; those like Balmain have preferred to focus on neon pumps and those like Isabel Marant on Texan boots, but the most popular models are platform loafers and, above all, chunky boots. They have a bold, curvy silhouette, they can reach the ankle or the knee, they can be brightly colored or embellished with sequins like those by Prada or pearls, like Simone Rocha combat boots. They are perfect to be worn with sixties-inspired mini-dresses, but also with mini-skirts and pleated midi.
Cool Gloves
The most classic winter accessory becomes chic and colorful. The FW21 gloves are long, have captivating pop colors like delicious bonbons or are declined in bold patterns. The most beautiful ones to buy or receive as a gift? Those with a half-moon motif by Marine Serre, those in wool by Raf Simons and the super cool ones with a pocket to hide small objects by Prada. Electric blue, purple, red, blue, blacks.... the Milan brand's creations are a must-have to be collected.
Foulard
If you think that, once summer is over, you should put silk scarves back in the closet, you are wrong because, even in cold weather, they will remain your best ally to give a twist to boring winter outfits. This simple accessory with infinite styling possibilities has been brought to the runway by Dior, Versace, Max Mara, Roksanda, Bally and many other brands, won over by its sophisticated allure. A little bit diva of Hollywood's Golden age, a little bit babushka style.
Statement Tights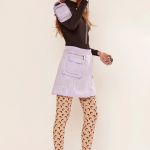 This fall/winter, the focus is on the legs. Get ready to show off your tights for any occasion. The important thing is that they have to be almost as thick as leggings, brightly colored or decorated with eye-catching patterns such as the crescent of Marine Serre or polka dots like those of Prabal Gurung.