The best beauty looks of Met Gala 2019
From the eyes of Ezra Miller to Lady Gaga Drag doll version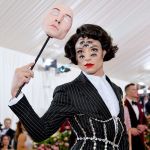 If you thought that the Met Ball 2019 camp theme would offer us exaggerated looks, amazing accessories and vibrant touches of colour, you were right.
The coolest red carpet of the year was a mix of references to ancient Egyptians, circus, dolls, drag queens, Disney fairy tales and anything else that came to mind of the many guests present. Those who didn't dare with the dress did it with make-up.
Below you can find a selection of our favourite beauty looks: from Ezra Miller with his face painted with eyes, halfway between surrealism artistic references, to Cara Delevingne with an orange horizontal line in the middle of the face and a helmet of fruit on her head; from Barbie Elle Fanning with pastel details and charms hanging on her nails to Lupita Nyong'o style "Marlene Dietrich meets Joan Crawford" as she was defined by make-up artist Nick Barose who painted her eyebrows inspired by the divas of silent cinema and copying Cleopatra's eyeliner with an extra touch of sequins, all completed by afro curls full of golden combs. Impossible not to mention Gigi Hadid, cyborg-glam ice queen with a metal look and fake frozen effect eyelashes, and Lady Gaga, a drag doll with a platinum bob and a look framed by maxi metal eyelashes, kajal and sequins, created by make-up artist Sarah Tanno.
Take a look at our favourite beauty looks from the Met Gala 2019.
Lady Gaga
Ezra Miller

Cardi B

Kylie Jenner

Elle Fanning

Lily Collins

Gigi Hadid

Cara Delevigne Hailey Bieber

Hailee Steinfeld

Ashley Graham

Lupita Nyong'o

Aduta Kech

Lucy Boynton