How to recreate a denim effect eye look with Washed Denim trend
The washed blue denim will be the beauty trend of 2023 winter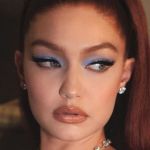 If sky blue, shimmer blue or aquamarine shimmered on the eyelids of icons like Twiggy in the 1960s and 1970s, today it is the makeup inspired by the timeless washed-out blue jeans that is depopulating the jet-set. In a TikTok video that has already garnered nearly 150 thousand views, Victoria Lyn recently shared how to get the look that won over even Kendall Jenner at her best. According to the make-up artist, its appeal lies in the way it evokes the "glam nostalgia of the early 2000s" and the fact that "it's not a bright blue, it's a faded blue-that's what makes it a wearable blue." Digging into the past only confirms how old trends are making a comeback in new forms: frosty hues are evolving into a modern key and are definitely crowning "washed denim" as a winter trend.
And it is no coincidence that this makeup trend is making a comeback in conjunction with the return of the denim-on-denim combination and the interpretation of the same on the catwalk, by Diesel in primis. But what is "washed denim" in beauty? It is an indigo blue color, not a regular blue, that looks as washed out as denim that loses those wash after wash. The somewhat worn look of the color hugs the eyelids and declines on a pale base look. Shades to recreate it should be few but broad, going beyond the crease of the eye almost to the temple and then down to emphasize the lower lashline.
The key to emphasizing blue eyelids, however, is to play with dark nudes to define the arch of the eye socket and define the gaze. This should be paired with nude skin with contouring that puts equal emphasis on defining areas of the face, glossy lips and plenty of mascara. Here's 5 products to recreate Kendal Jenner, Gigi and Bella Hadid's look.