Supreme's first nail-polish set with Pat McGrath Labs
Will it be sold out in 8 seconds like the lipstick?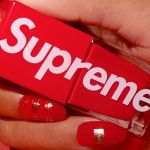 The master brand of hype and the most influential signature of current beauty have decided to join forces to repeat the success achieved in 2020: merging their aesthetic codes with the colors red, black, and white Supreme and Pat McGrath launch a set of 3 glossy and shiny nail-polishes, with long staying power and very high gloss. 'SUPREME® WHITE', 'SUPREME®RED', and 'SUPREME®BLACK' are the three nail polishes contained in the lacquered red box, along with three sheets of decals to apply on the nails to complete the look and wear premium-looking nail-art, complete with logos, the same ones that make the box a true collector's item of design for the and enthusiasts.
To celebrate Supreme's first nail polish, the campaign's social activation boasts content creation by nail-artists Jin Soon, creator of the nail looks for the Moschino and Brandon Maxwell FW22 campaigns, and Nails by Mei, an artist who curates nails for Blumarine. The nail polish market has already proven to be the new frontier of gender fluid beauty, as also demonstrated by Harry Styles' Pleasing Machine Gun Kelly nail polish line, Tyler the Creator, which ensures the collaboration is a huge success for both Supreme and Pat Mcgrath Labs-which is increasingly diversifying the brand-even if the timing since the launch of the first installment of the two brands' collaboration has changed. The resounding success at the debut of the Pat McGrath Labs x Supreme lipstick sold out in 8.2 seconds occurred in 2020, a time when the magic of hype was driving the future of fashion and collaborations were a new positioning tool. Today, after two years in which business necessities have required interpreting the times and adapting to the obligatory needs of the market due to pandemic, we wonder if the collaboration will have the same success that saw the resell value of the lipstick skyrocket 225 percent and end up being listed on Stock X at a price of $225,000.
Probably yes, because both brand communities want to experience a renaissance of buying power to be able to wear the identity of two brands that are shaping current fashion, but surely a physical activation for the launch would have created even more needed traction. But it remains to be seen, because the release date has not been officially announced, although several sources are talking about the mid-September timeframe to try to get your hands on this new object of desire.