The best beauty looks of Ursula Corbero
On the occasion of her birthday, we look back at the Spanish actress' hairstyle and make-up evolution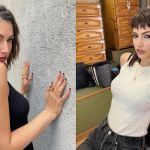 In the latest photo posted on Instagram she sports a Y2K look: her hair, slightly wavy, reaches her shoulders; her front wisps are gathered in face braids; eyeshadow in shades of brown is blended unevenly on her eyelids; overlining lips and new French manicure. It is a very different image from the one that made Ursula Corbero famous in the world. When she first appeared on Netflix screens in the series Money Heist, she was Tokyo, the sexy, unscrupulous mugger with a bob and baby bangs inspired by Léon's iconic Mathilda. Between these images there are many hairstyle changes. The Spanish actress played with lengths and color, switching depending on the mood and script requirements from a very short pixie to an 80s mullet, from a long bob to a spiky bun, from chocolate brown to blond, switching to shades with reddish highlights.
If when it comes to hair, Ursula often opts for sexy, jaunty asymmetrical cuts that uncover the neck and nape, framing the face, when it comes to make-up, Ursula prefers no-make-up. Her beauty routine includes not only a gentle scrub, a wrinkle-eliminating eye mask, and a silky serum from Shiseido, suitable for her ultra-sensitive complexion, but also a brush and gel to discipline her eyebrows. To find the perfect combination of foundation shades, she chooses Chanel Les Beiges, then adds natural-toned eye shadows, a strand of mascara and a swipe of red lipstick to brighten her face. On special occasions and on the red carpet, the Tokyo-based performer relies on make-up artist Ivan Gomez, who often plays with graphic makeup, colorful eyeliner, vibrant-tone lipsticks and metallic or smokey eyeshadows to highlight Ursula's siren eyes.
Eclecticism is a characteristic that reflects not only Ursula's beauty looks but also her outfits. Corbero goes from a tomboy chic style to a more fun style reminiscent of manga, from a slip dress to a power suit, from a corset to a little black dress with cut-out details, from a pleated mini skirt to a catsuit, from an over sweater to an oriental-inspired mini dress. Which version do you prefer?