The make-up and skincare essentials of Italian beauty
How to recreate the Bel Paese beauty typical features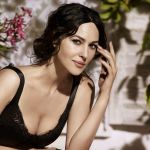 A beautiful thick hair with a brown or black color, olive skin, typically dark eyes and full lips, all complemented by a physique that tends to present a buxom appearance: the Mediterranean woman lives in sunny places, caressed by the sea, and her characteristics derive precisely from this, a beauty bestowed by nature. From the iconic Monica Bellucci and Maria Grazia Cucinotta, through newcomers Deva Cassell and Chiara Scelsi (both Dolce&Gabbana ambassadors), women with Mediterranean features definitely have marked and well-defined features. But how best to enhance this type of beauty?
Makeup is the first tool that helps to bring out a Mediterranean beauty. In order to have workmanlike make-up, it is advisable to use a foundation that highlights the olive or golden complexion along with illuminating earth; for the eyes, on the other hand, make-up with bright tones is perfect in general, which gives more depth to the gaze: you can choose warm eye shadows, that is, in golden or bronze shades, as well as pink and peach. For a touch of brighter color, yes to lilac or green on the mobile eyelid, as long as they are well blended and accompanied by pencil and black mascara. Then let's also not forget champagne, taupe and beige colors, which are useful for a flawless nude look. For the lips you can resort to a classic red lipstick. Eyebrows are also very important to enhance the Mediterranean look: whether you go to a beautician or groom them yourself, it is important that they have a well-defined shape, they should be blunted, shaped, but without making them too thin.
If you have long hair, go ahead and leave it loose: flowing hair, whether smooth or curly, that falls to the shoulders is a symbol of great femininity and seduction! Opt for a scaled cut to make it more voluminous, and do not change your hair color unless necessary (for example, if you notice the presence of obvious white hair). Also avoid dyes and highlights: your natural hair color will always remain the one that most reflects you. With the arrival of summer, experiment with new hairstyles all the time: you can keep it semi-bonded, or opt for a high ponytail, braid, chignon, or add some colorful accessories so as to make your look more cheerful and distinctive.
As anticipated, moreover, the Mediterranean woman tends to be curvy and Junoesque, with a tighter bust than round hips. If you are Mediterranean, therefore, stop chasing the ideal of a thin and slender woman and focus only on firming your skin: it is precisely because of this soft physique that the Mediterranean aesthetic is considered so appealing.
Are you ready? nss G-Club has selected for you the essentials to enhance this type of beauty: