L'Oréal expands in the Metaverse
In collaboration with Ready Player Me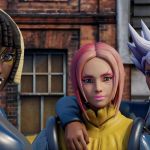 What will beauty look like in the metaverse according to L'Oréal? Now we can get a taste of it. L'Oréal Professionnel Paris enters the gaming world with virtual hair looks thanks to a collaboration with Ready Player Me and Evan Rochette. Together, the pioneering brand in professional beauty hair, the global leader in creating avatars for various apps, and the artist are making five different looks compatible with more than 4,000 video games, platforms, and apps globally available to gamers who want to customize their avatars even more.
"For more than 110 years, L'Oréal Professionnel Paris has put its pioneering spirit at the service of hairdressers to develop the professional beauty industry worldwide. This exciting new partnership with Ready Player Me is a meaningful way to continue our journey into the virtual world. We look forward to expanding the technical and creative boundaries to provide the community with endless possibilities for expression through hairstyling."
Anne Machet, L'Oréal Professionnel Paris Global General Manager, commented, expressing the same enthusiasm as the other partners and assuring that they will continue to work to expand beauty hair and free and complete personal expression in the virtual world as well.
This collaboration is just one of the giant L'Oréal's first experiments in the Metaverse. In fact, according to the cryptocurrency information site CoinDesk, the French giant filed seventeen patent applications between 8 and 10 February for the development of a series of virtual cosmetics and other digital items. The project, which will involve brands such as Kiehl's, Maybelline, Pureology, Urban Decay, Essie and Redken among others, will include a wide range of products dedicated to "virtual perfumery", hair care and styling for avatars and game scenarios. Each brand will follow different specifications that best suit its target audience, but it seems that all will strive to "provide providing a metaverse for people to browse, accumulate, buy, sell and trade" virtual cosmetics and services, including hair care and styling, nail polish, skin care and cosmetics. There will also be NFTs, or blockchain-based digital goods, and "retail store services and online store services in relation to virtual goods..".
There are many companies in the beauty sector, such as Chanel, Givenchy Parfums or Clinique, that have started to explore the metaverse, launching NFTs and virtual try-on services, but, more often, they have simply used this new territory as a vehicle for branding, consumer education or to extend and make more profitable their existing 2D e-commerce business. L'Oréal also made a first attempt in December 2021 by launching a series of NFTs of digital works that developed the theme of female empowerment. Unfortunately, the experiment, again according to CoinDesk, turned out to be a flop and recorded sales of less than 0.5 ETH (about $1,550). For the French company, the filing of the new patents and the collaboration with Ready Player Me represent a second opportunity to understand how to behave in the virtual world and how to take advantage of it, while managing to offer a satisfying experience to its customers.