Will Lady Gaga will be Harley Quinn in Joker's upcoming sequel
The singer will join Joaquin Phoenix in Todd Phillips' Joker Folie à deux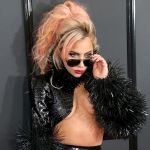 After months of rumors, Lady Gaga has confirmed that she has joined the cast of the Joker sequel by writing on her Instagram profile simply "Joker: Folie à Deux 10.04.24," along with a short clip featuring silhouettes of Joaquin Phoenix's Joker and what fans believe to be the shadow of Harley Quinn, a character the singer will almost certainly play on screen.
After House of Gucci and A star is born, Lady Gaga is about to return to the big screen with a major project. The hugely successful 2019 movie, which told the origin story of Batman's famous antagonist through an introspective journey into the life of comedian Arthur Fleck, amid violence, injustice, and failure, was such an unexpected yet overwhelming success with audiences and critics that it went on to gross more than $1 billion worldwide and 11 Oscar nominations. Therefore, when Todd Phillips, who will also return as director for this follow-up chapter, and Scott Silver delivered the new script to Warner Bros. the production company gave the immediate green light to work on the project.
Joaquin Phoenix has already been portrayed reading the script and thus seems to be confirmed as the Joker, while his co-star Lady Gaga will be confronted for the first time with the role of Harley Quinn, the crazy character created by Paul Dini and Bruce Timm and played by Margot Robbie in other films of the DC Comics universe. The Poker Face singer has all the makings of great performance for the audience. Not only because she has already proven her acting skills or because she definitely has a penchant for playing with her image by daring with funny and eccentric make-up, but she would be perfect in the role of the historical partner of the Gotham City villain mainly because of her voice. Todd Phillips' new film, to be titled Joker: Folie à Deux, will, in fact, be a musical. A decidedly unexpected choice, however, that would fit Gaga, who has already tried her hand at this genre with A star is born for which, thanks to the song Shallow, she won her first Oscar.
At the moment there is still no word on when filming of the new Joker will begin, nor when it is expected to arrive in theaters, probably in October 2024, but the many fans of the Gotham City villain can't wait to know all the details about the project and to watch Lady Gaga be part of the cast and how her Harley Quinn will look compared to the one we have come to know and love thanks to Margot Robbie.