Creative industry initiatives in favor of Ukraine
Several brands and creators have decided to donate part of their revenues to humanitarian aid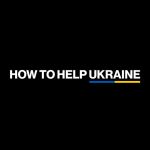 A few days ago, as Milan Fashion Week was beginning, Vladimir Putin ordered an attack on Ukraine, leaving the industry shaken by the news and the city the stage for several protests in support of the besieged country, even outside the fashion show venues. In the general confusion, creatives, designers and talent of the fashion system expressed their solidarity with the Ukrainian population and the thousands of refugees pouring into Europe, but some went well beyond words.
Brands that have donated
• UNITED PHOTOGRAPHERS FOR UKRAINE, a group of photographers from different fields, has put on sale some photographs with the aim of raising funds for humanitarian aid in Ukraine. A few hours after the launch of the initiative have already been collected 25.000€, a figure that will be used for an operating room in the hospital in Kyiv, while the next goal is to collect 15.000€ to be donated to the International Red Cross involved in setting up a car camp on the border with Poland.

• Design competition PROSPECT100 has joined forces with the Ukrainian government for a digital art competition in which images and videos related to Ukraine will be transformed into NFTs. The 100 best works, chosen by a jury that includes Daniel Arsham and Hiroshi Fujiwara, will be auctioned off to directly fund the Ukrainian military.
• Through April 30, Google will donate an amount equal to each donation sent for a maximum total of $5 million.
• The Armani Group has announced its adhesion to the solidarity initiative aimed at raising funds for UNHCR with a donation of 500 thousand euros. In addition, the Group has announced a donation of basic necessities for refugees that will be distributed through the Community of Sant'Egidio.
• MISBHV, the Polish brand founded in 2014 by Natalia Macze, has decided to donate 100% of the proceeds from the sales of its next drop to humanitarian aid.
• Condé Nast and Nanushka, owned by Vanguard, have pledged donations in support of Ukraine: Roger Lynch, CEO of Condé Nast, said the media company will donate to the International Committee of the Red Cross and the emergency fund, while Nanushka, in addition to creating a program to help local fashion businesses stay afloat "either through a job or access to counseling and education," announced it is partnering with the Order of Malta's Hungarian charity to provide food, clothing, shelter and transportation to refugees.
• Kering said Wednesday that it will make a "significant donation" to the United Nations High Commissioner for Refugees (UNHCR), hoping for "a peaceful resolution to this conflict."
• CHIME FOR CHANGE, Gucci's global campaign to bring together, unite and strengthen voices that support gender equality, is donating $500,000 to UNHCR, the United Nations Refugee Agency.
• Marcelo Burlon has activated an initiative with the Diaspora humanitarian project, to provide assistance to refugees on Italian soil.
• Balenciaga decided to donate to WFP (World Food Program), one of the first agencies operating in the field in global emergencies caused by conflicts, climate shocks, pandemics and other disasters.
• The Ukrainian co-founder of Pleasures via instagram announced that the brand will donate 100% of proceeds from sales to UNICEF.
• The number of talents from all over the world is growing (the full list is available at the link), including video makers, designers and photographers, who have spontaneously mobilized to surrender part of their fee in favor of the Ukrainian population.
•The magazine 032c has created a t-shirt capsule (currently sold-out) in collaboration with the Ukrainian designer Anton Belinskij whose proceeds will be donated.
Symbolic initiatives
Giorgio Armani
decided to show his latest collection in absolute silence
"as a sign of respect for the ongoing tragedy"
.
• adidas has suspended its partnership with the Russian Football Union.
• Coperni dedicated its last fashion show at PFW to Ukrainian women.
• A huge t-shirt in the colours of Ukraine and a letter: this is how Balenciaga's fashion show opened last Sunday, with models walking through a blizzard, some wearing only a blanket, to represent the flight of refugees from their country to an unknown destination.
• Condé Nast to suspend all Russian publishing operations: Vogue Russia says it will suspend business operations in the country due to new government censorship laws.
• The Instagram page @putinpeace continues to collect works of art and generosity from around the world as a shout-out against the Russian invasion, and from 1 to 10 April is launching PEACE OF ART, an online charity auction in collaboration with Catawiki in favour of Cesvi Foundation, a humanitarian organisation committed to assisting refugees in border areas.
Brands that have stopped sales on Russian soil
• YNAP (Yoox Net-a-Porter Group) and the Swatch Group, together with Nike, adidas, Estée Lauder, have decided to stop shipments to Russia.
• Fast fashion brands H&M, Asos, Bohoo, as well as Ganni, Nanushka, Burberry and Puma have stopped physical and online sales on Russian soil.
The conflict at the gates of Europe has made us spectators of a clash in front of which we feel powerless and useless, yet numerous initiatives and fundrising have come to life on Italian territory both to help refugees and the population on the front line, thanks to social networks that have become the megaphone of solidarity initiatives, while every day protests animate the main Italian cities.