The Festive Playlist by nss G-Club x Concetta Magazine
The glossy and conceptual soundtrack is perfect for party season. Press play and shine!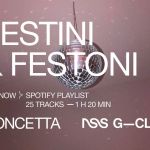 Festini & Festoni is the playlist curated by nss G-Club and Concetta Magazine that aims to become the selecta to accompany in rhythm this period when every occasion is good for partying. Whether it's during a spooky company dinner or a hypothetically fun reunion with cousins, dancing under strobe lights or singing a collective karaoke is super easy with the selected tracks, which are not the usual Christmas songs. Festini & Festoni is a mix that harkens back to the vintage but extremely current charm of Italian songs with the voices of Mina and Irene Grandi and to songs now entered into the pop-culture of the 1990s that speak a bit of our childhood, such as Rockin' Around The Christmas Tree by Miley Cyrus or Breaking Free from High School Musical. The playlist unlocks memories to an entire generation straddling the mid- to late-2000s, who also loved iconic voices such as those of Lady Gaga and Britney Spears, of course featured in . Icing on the cake are the singing renditions of Ru Paul and Kylie Minogue, for a Christmas playlist that does not include Michael Bublè on which to improvise hot dances, to really feel like the Mean Girls at the Christmas pageant, but in your own living room.
Press play under this box and let the party start!