Rihanna will be the star of the 2023 Superbowl
After several years away from the stage, the singer will perform in February during the Halftime Show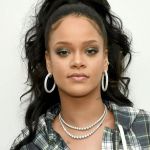 Rihanna is back on stage. The Barbados singer has been chosen by the NFL, the American football league, and Apple Music, this year's official sponsor in place of Pepsi, to headline Super Bowl 2023, the most-watched U.S. event of the sports season.
"We are thrilled to welcome Rihanna to the Apple Music Super Bowl Halftime Show stage. Rihanna is a once in a generation artist who has been a cultural force throughout her career. We look forward to collaborating with Rihanna, Roc Nation and Apple Music to bring fans another historic Halftime Show performance."
Said Seth Dudowsky, The NFL boss, expressing his enthusiasm, also shared by Jay-Z, Rihanna's mentor and founder of Roc Nation who is among the executive producers of Halftime:
"Rihanna is a generational talent, a woman of humble beginnings who has surpassed expectations at every turn. A person born on the small island of Barbados who became one of the most prominent artists ever. Self-made in business and entertainment."
Although the names of Taylor Swift and Britney Spears have been circulating for months, it will be Riri's turn, who announced the news by posting a picture of her hand clutching a football, to perform during the Halftime Show, picking up the legacy of so many of her colleagues such as Beyoncé, Madonna, Jennifer Lopez, Shakira, Coldplay, Lady Gaga and The Weeknd who have given fans spectacular performances in past editions. Remember when Justin Timberlake duetting with Janet Jackson accidentally ripped off her top leaving her breasts exposed or when, in 2022, emulating Colin Kaepernick, Eminem took a knee in protest against racism and police brutality?
Rihanna has been away from the music scene since 2016, when her latest album Anti was released. In recent years, she has preferred to focus on other activities: she starred in Ocean's 8 alongside Cate Blanchette and Sandra Bullock, was named ambassador of Barbados, became a first-time mom, and, most importantly, focused on Fenty Beauty and Savage Fenty, achieving such success that she became America's youngest self-made billionaire. So, there is much anticipation to see her back on stage. Will she have guests? What will she wear? What, however, most fans hope is that Riri will present not only her big hits, but some new songs, heralding the release of a new album. To find out if their wish will come true we should wait until February 12, 2023, the date of the SuperBowl to be held at State Farm Stadium in Glendale, Arizona.