Dylan's a British emerging rock talent to watch out for
A work in progress rock-star touring Europe with Ed Sheeran and a hit banging on TikTok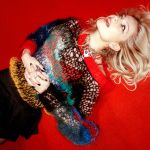 Long blond hair, an obsession with Harry Styles, and a rock-star attitude-Dylan is a promise of British pop-rock music that is entering its golden age. Class of '99 originally from Suffolk, since her debut in 2019bhas gained an army of supporters over the past two years and supported Yungblud, Griff, and Thomas Headon. Her latest EP "No Romeo" is her greatest work to date, featuring the singles "Nineteen," "Someone Else" and "You're Not Harry Styles." Her sound is a winning combination of candidly honest lyrics, great pop production and a slightly rougher, rockier edge. Yet another success in a year full of music and performances was first touring with Canadian star Tate McRae and then performing during the support act for the stages of Ed Sheeran's European tour, during which she played at Wembley, fulfilling a dream of hers, the one she had been telling her mother since childhood. "I have no passions other than music, and I've been playing since I was 7 years old," says the singer, explaining how she is completely focused on doing what she loves.
Just days after the launch of her new single "Girl of your Dreams" available on all streaming platforms, the song has already gone viral on TikTok, earning 1.8 million views. A straightforward lyric about that strange and annoying emotion of not feeling seen by the person you want, that sense of loneliness but also of hope in being sooner or later "the girl of someone's dreams." In three years of so-called gavetta culminating in European tours and experiences as a true rock-band member, Dylan has visualized exactly where she is in her career and where she wants to go, and she did so with the "Lego House" singer during his tour:
"Ed invited us to have a little party in his dressing room. I was holding a very warm can of beer and she was holding a very expensive glass of wine, in a definitely nice cup. We clinked them together and I said, "Ah, look, it's like our career milestones summed up in a drink!"
Dylan has a lot of energy and loves to perform, and just like a true rock star her favorite part of the tour is really the performance, where she has the audience's full attention and can express himself to the fullest with the guitar and the moves she matches to the music.
https://www.tiktok.com/@dyl.an/video/7123243382050180358?_d=secCgYIASAHKAESPgo89%2BETgQ6cnZPD9EVg7QAHblzPyDD2hIMhFXthPXUS%2F2toOUeU7S7%2BaRBQTN3%2B%2FkDWXxkXs%2FPTNT9tYE8nGgA%3D&_r=1&checksum=59e45f114777153103fbe6633a8b5c396f2ce717f0df86bc7fb66c84dbeeaece&is_copy_url=1&is_from_webapp=v1&language=en&sec_uid=MS4wLjABAAAATa9klCQtLLdYCdTQ8yP0DALT8tRsFrbqVXVq4gNlnoAuOZ0jGDOiu3sqruMRom8S&sec_user_id=MS4wLjABAAAAyCxr3LMi5kMyXngzKKIs2aX3Wn_XTDGgB5cGoFdwxvxQt8PnPY0xc89ckrioQ6xi&share_app_id=1233&share_author_id=6772876197262590981&share_link_id=3A1F246E-8614-4E05-BEDE-184F5335B342&source=h5_m&tt_from=copy&u_code=dajh9h9kc6igml&user_id=6790444160929268741&utm_campaign=client_share&utm_medium=ios&utm_source=copy
The singer is very active on TikTok, where she shares a lot of content that makes it easier to understand how her creative process works, as well as impossible not to fall in love with her sunny and fun personality: she writes and sings, challenges herself and takes up her everyday life in which her style also emerges, consisting of a mix of over and in line with the Y2K trends of the moment but in a baggy key, while on stage she turns into a young glam-rock diva instead.
"When I'm not on stage I dress like a 14-year-old boy, while on stage I dress better. I hope that will change sooner or later, I just have to learn to be more fashionable."
The singer is in the process of building, but you can tell from her voice and perseverance that she is an artist to watch out for, especially because she believes that the only way to do this craft in life is to work harder than others, do it for yourself, and not give a damn about the judgments of others.