Il ritorno di Elisa
La cantante sarà tra i big della prossima edizione di Sanremo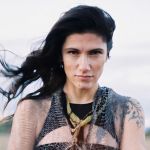 The light and powerful tone of Elisa's voice is an unmistakable signature in the Italian music scene, in which the singer confirms for years as the spearhead of an art school that has built its success away from the new mechanisms of music based on the Spotify Friday drops, but still manages to ride the wave of new listening modes. Singer-songwriter, musician and record artist, Elisa has built her success with a real career, identity and match immediately in Italy in the '90s to which she also appreciated English lyrics at a time when it was not as widespread as today. He has collected worldwide galactic successes: a diamond disc, a multiple disc (obtained with the participation of Artisti Uniti for Abruzzo), forty-four platinum records and nine gold discs. Since his debut with Pipes & Flowers in 1997, in whose videos he wears a haircut decidedly '90s, passing through performances at the Vatican and the artistic direction of Amici in 2015 in 2022 the artist returns to the stage of Ariston for the seventy-second edition of the Sanremo Festival. We retrace his path to get ready to witness his new success.
Born in 1977 in Trieste and growing up between Gorizia and Monfalcone, she became passionate about music from a very young age and began writing texts at the age of 10 and composing the first pieces at 11. His favorite artists are Dolores O'Riordan, Bjork, Alanis Morissette, The Doors, Jim Morrison and Rudyard Kipling's poems, which is why he writes mostly in English. After singing in various country bands she launches into an audition that will be to her fortune, where she knows and bewitches Caterina Caselli, record label and famous name of Italian music, that writing immediately under her record label SUGAR, with the singer in 1997 Pipes & Flowers, which enjoyed great success.
At the age of 18, Elisa finds herself in the place of her idols, with a quadruple platinum record and a list of invitations to perform all over the world, managing to reach an audience not yet accustomed to the common use of English in the 90s. Her rock look and relaxed matchato to her powerful voice and lyrics in English allow her to intrigue the general public, but it is with her first song in Italian that conquers the stage of the Ariston. Luce (Sunsets at north-east) enters the race at the Sanremo Festival in 2001 and wins the 55th edition of the singing festival, thanking "La vita...tutti... Life" at the microphone of the presenter, Raffaella Carrà. Here a series of successes begins: Elisa becomes the first female artist to receive a MTV Europe Music Award in Frankfurt and receives the PIM (Italian Music Award) as Best Female Artist and Best Single.
In 2002 she sang Mameli's Anthem at the closing ceremony of the XIX Winter Olympic Games in Salt Lake City (USA) where she dueted with Pavarotti, representing Italy. At the end of the year, the album Elisa was released in more than twenty countries including Germany, Spain and the Netherlands and was anticipated by the single Come Speak to Me. Following the albums Lotus (2003) and Pearl Days (2004), produced in collaboration with Alanis Morissette's producer, the singles Swan (2005) and Teach Me Again (2006) in which duet with Tina Turner with which expands its international influence and the album Ivy (2010) in which she also made a documentary about his career from the beginning.
"Writing was my world, my place to find freedom [...] I've always been very quiet and shy," he tells Daria Bignardi in 2011, describing her mysterious and seemingly reserved personality. In fact, in many years of career there have been few rumors about her, her private life has always been effectively guarded and left out of the spotlight, until the arrival of social where the singer herself decided what to share with their followers. Her husband Andrea and children Emma Cecile and Sebastian even accompany her on tour, and they are an integral part of the emotional universe of the singer thatt is strongly reflected in her captivating music, never banal and always touching.
The change from hit-maker to character of the Italian pop culture takes place with the program Amici di Maria de Filippi, in which he participates as artistic director and judge of Amici 14 and 15. The singer accepts in order to be able to give her own contribution to launch young talents and direct them towards a career in music, and guiding Emma Marrone and The Kolors to the victory of their respective editions, has certainly succeeded in its intent. After the television interlude, Elisa immerses herself in the world of young people who fascinate her so much, and with the Sony Music label she begins to duet with artists of the current music scene such as Carl
Brave, Rkomi, Marracash, Tommaso Paradiso
showing his affectionate audience another facet of your talent. With a twenty-year career and a long list of successes Elisa will compete at the seventy-second edition of the Sanremo Festival Elisa will compete with O forse sei tu, a song written in collaboration with Davide Petrella and the hitmaker
Dardust
, with a video already published and directed by Attilio Cusani with the participation of the creative director of
Valentino
,
Pierpaolo Piccioli
, to the artistic direction. His next project came out after Sanremo, officially on February 18, but that Elisa will release gradually until the release date. " Time lost" and "Show's Rollin'" are the two pieces of
Ritorno al Futuro / Back to the future
already available to listen on all streaming platforms.