The most popular artists and songs on TikTok in 2022
From Lizzo to "Ginseng Strip 2002" by Yung Lean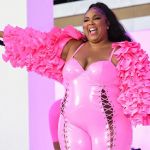 Needless to deny it, nowadays it is no longer record sales that determine the charts (you know those round things you used to put in your record player or the very old CD player and play a sound?), but viral videos on TikTok. The tune that plays in the background of your cousin cooking boiled rice and salmon or a 12-year-old doing her make-up better than Charlotte Tilbury would do is the one destined to go viral and resonate in our heads for many weeks. So, at budget time, the Chinese platform reveals which songs and artists dominated 2022 globally. The top10 is an interesting and heterogeneous mix of planetary stars, unknowns and past glories whose only common feature is creating hype and hits with catchy refrains perfect for the creators' short videos.
Three of the 10 most viewed creators on TikTik worldwide in 2022 are Mexican, proving that the Latin American nation is rapidly becoming a powerhouse on the social site and its sound is gaining more and more followers. They are Kim Loaiza, who we find in first place and, despite being in her early twenties is racking up one success after another since she released her first single, Enamorarme, in 2019 to become a real influencer; Mont Pantoja who is in third place, followed in fourth by JD Pantoja. Also of note is Indonesian youtuber and talent Atta Halilintar. Much more mainstream the other positions in the chart are occupied by Doja Cat, Charlie Puth, Bad Bunny, Bella Poarch, Lizzo (the American artist manages to reach fifth place in the top 10) and Rosalía, who confirms herself as one of the most talented and down-to-earth cool girls at the moment, as the audience at her live shows has been able to see.
The TikTok's trending tunes worldwide in 2022 was Ginseng Strip 2002 by Swedish rapper Yung Lean, followed by Sunroof by Nicky Youre & Dazy which has been used in no less than 8.9 million videos and Wait a Minute by Willow, perfect for dancing, lipsyncing, drawing and even tidying up sock drawers. In the top10 we also find Bad Bunny & Chencho Corleone with Me Porto Bonito (in 7th place) and Lizzo with the viral hit About Damn Time (at number 8), a result that confirms that 2022 has been a year full of successes for the singer. And not only on TikTok.