Bad Gyal is the future of Spanish Urban music
We had the chance to chat with the Catalan star before her show at Sónar Festival
This year's edition of Sónar Festival saw as one of its main live acts a young female artist able to change the rules of the industry, thanks to a unique sound and an explosive personality: Bad Gyal.
The Catalan star performed last Saturday at Sónar with an outstanding dancehall-reggaeton-urban-electronics-hybrid performance – showing her strong personality dancing and singing how proud she is to be who she is, beyond the definition of traditional music genres, she is the future of Spanish Urban music and no one can stop her.
We had the chance to chat with Bad Gyal before her show and we were truly hypnotized by her energy.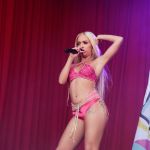 #1 Is there a question nobody ever asks you during interviews?
Yeah actually, they never ask me which music I like to listen to.
#2 I think it's a part of the process of the music you make.
Yeah for sure, 100% it's part of my process: a lot of Caribbean music, Jamaican dancehall music, I don't care if it's made in Jamaica or in London, whenever, I don't care where it's from, but I just like music made by Caribbean people and also Dominican Dembow, Puerto Rican reggaeton and Urban music made in Spain.
#3 Do you think the lyrics are a bit sexist or do you think it's ok talking like this for men in regards to women when it's part of the music lyrics and you don't mind as you know it's part of this music genre?
It depends, it sucks as there are some songs that are kinda disrespectful, that even for me as I am listening I feel like I am not comfortable around these lyrics, but on the other side there are a lot of songs that are not offensive, they are just explicit and there are some people who will never understand them, cuz of their mind thinking. You need to be openminded to accept the fact there is nothing wrong to talk about sex in music even if you're a man or a woman. If a man can do it a woman can also do it, I don't mind.
#4 You do it a lot too? Right? Do you do it because you want to be treated like any other man, you want to provoke some sort of reaction and be considered the same?
I don't think it comes from the need to provoke any reaction. I think it comes from the inspiration of the music I listen to and in the music, I listen to women talk tough and also I feel like that's a part of me, I need to talk like that sometimes because I'm just like that. The kind of a relationship I would have with a man is explicit, in real life, and it's just the way I experience sex, so I would talk to a man like that. It's a way of life, a combination of the inspo of the music I listen to and my life experience how I feel good with myself and taking control of the situation. I don't want to be offensive.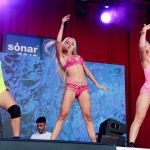 #5 Do girls find your music inspiring or they are afraid of you?
I like when girls like it and come and say 'Yo thank you for expressing yourself like that'. But I know there are also girls who don't speak like this, like some of my friends don't speak like this. I wanna set the trend where girls accept themselves, there is a lot of way of being a strong woman, you just have to figure out your way.
#6 It must be difficult to be a girl, not just cuz trying to make this music and people say that this music doesn't belong to you?
Yeah, a 100%, it is challenging to be a Spanish girl from Spain, where people say that us as artists we are not Latin at all. I have been travelling a lot, I been to Jamaica, Japan, Canada and I realize that if I feel that Latin because this is the kind of vibe I associate myself with. I won't say I'm Latin cuz I could get in trouble for this, but when I go to Argentina, Mexico and it's much more similar to what I feel. Stop having the need to label everything. There must be dancehall underground artists in Japan and dancers, when I did my gig in Japan the crowd went crazy, they loved it. It wouldn't be fair if I say I'm not gonna listen to this artist because he was born in London being half Nigerian half white. I'm a girl from Spain who loves the Caribbean, Jamaican, and Porto Rican, Dominican music. It's my passion I can't stop doing it, just cuz I'm not supposed to do it. I won't stop making this music! Life gave me this blessing making music, I'm gonna make a living out of this, my job is my passion and I'm gonna fight for it.
#7 This is the best lesson for people "If you trust yourself you can be whoever you want to be" I love your attitude: you don't like me I don't care.
Yeah right. There are a lot of types of urban music, we just need to accept any type - we ended up in a spiral, you can do some songs that are not trap, they allow you to have a few songs that sound different, but then they tell you you need to sound like this, look like this, and you need to speak like this and your attitude needs to be like they say. Women need to change the look, hurry up, get long nails and go buy long fake hair at the shop cuz you're late and I don't fuck with this! We need to accept any type of artist, we need to accept it today tomorrow or next year, but that's what's going to happen, urban music is changing the rules of the game and it came to stay. Urban music is global, we have the internet and this is what the youth likes.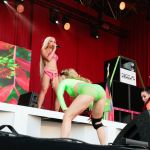 #8 You are one of the firsts and you're made to stay.
I WISH! About the culture, I'll always try to go to different countries as much as I can, to learn the most possible. Now I've just signed a contract with a label and I asked to work with Puerto Rican producers, recording songs with them in Puerto Rico with the reggaeton sounds. It's a dream come true! I'm really interested to create music with all the musicians that inspired me that come from that country. Dancehall in Spain 5 years ago was not a thing, que? What you say?! They didn't know what it was, but for me, it's a beautiful thing to show to my fans that follow me what I like and what is my passion where it comes from, who are the people that inspire me, who are the people who make this art. I'm doing a new show, I selected them cuz I listen to them. I only dance mine or the songs I like, the ones I selected. I do all my songs and I choose the ones I like during my show. I want my audience to see what I listen to, even if there's a song from an unknown producer from a small Caribbean island with less of 1 million views, I will play it and do the same steps my dancers learned in Jamaica as they teach them to me. If you look it from the outside you won't see why I'm doing this, who is this girl from Spain shaking her ass?! But if you pay attention you'll see me doing it and learning to improve as much as I can every day and it's me making the decisions. You need to have a little interest in the reasons why I am who I am! In the last 3 years, it's been hectic like a train – for real, nobody was using dancehall drums. When the Rihanna and Drake song came in first the American and then later the Latin artists, they were doing it before, but now it's starting to come back, Farruko just dropped a dancehall- reggae- Jamaica - marijuana album. Now everybody in trap looks like the same!
#9 Bad Bunny in Italy was sold out, I saw the stadium full, is it time for Italy too?!
It's getting so big and Italy has always been affected by Spain. I've been 3 times in Italy, also in Ortigia, and every time I am in Milan people say I love you, they know me there, they are so nice to me. Italians are linked to what happens here, even if Italy went a lot in the trap way, they don't have their own artists with their Latin sound, some are maybe Dominican, maybe it's more underground. But if they dig Bad Bunny and they look up to Spain they will see that it's totally fine to start their own Latin music project.