What are the most famous vintage jewels ever?
From the iconic "Breakfast at Tiffany's" diamond to Princess Diana's blue sapphire engagement ring
They are beautiful, shine brighter than the stars and are as famous as the divas and queens who have worn them over the years. Vintage jewellery is becoming increasingly valuable. And not just because of their actual value or design. It is also because they carry with them a history that is enriched each time they are passed down from generation to generation or worn by a new owner. They are diamonds, sapphires, emeralds and rubies that come from faraway lands and become bracelets, necklaces, rings, tiaras and brooches, ultimately epitomising the obsessions of ordinary people and celebrities alike. Like Elizabeth Taylor, one of the greatest gemstone collectors of all time, and like Kim Kardashian, who boasts ownership of the Attallah cross and Jackie Kennedy's Cartier Tank watch, and is the envy of the rest of the Kardashian-Jenner clan.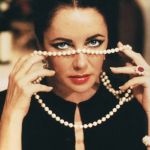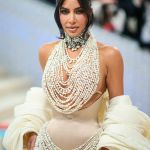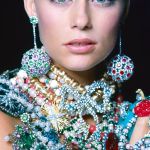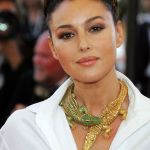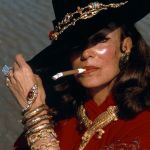 From the film world to the red carpets, from traditional engagement rings to parures, jewellery is more than just an accessory that completes a look. They are a statement, a status symbol, a keepsake, a promise
G-Club has selected the most famous pieces of vintage jewellery of all time: from the iconic "Breakfast at Tiffany's" diamond to Princess Diana's blue sapphire engagement ring. Do you know them all?
La Peregrina pearl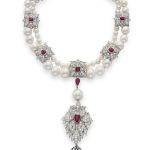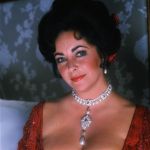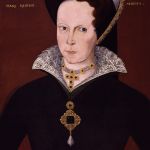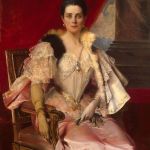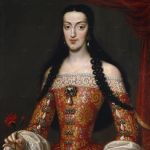 With a weight of 202.24 grains (50.56 carats) and its unmistakable pear-shaped design, La Peregrina is one of the most perfect pearls in the world, if not the most perfect. Found off the coast of Panama in 1576, the pearl was first bought by Philip II of Spain for his bride, Queen Mary I of England (Bloody Mary), then changed hands to the Spanish royal family and finally to Napoleon's elder brother, Joseph Napoleon Bonaparte. in 1969, it was bought by Richard Burton for Elizabeth Taylor, attached to a necklace designed by Cartier, almost lost in a Las Vegas hotel and fortunately found in her dog's mouth. In 2011, it was sold at Christie's in New York for $11,842,500.
The Hope Diamond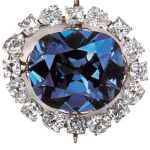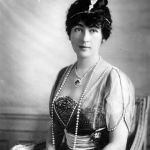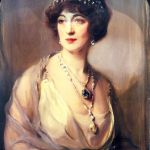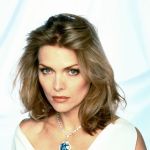 Like many iconic stones, the Hope Diamond is said to be cursed, which of course has contributed to its fame and appeal. Legend has it that the 45.52 carat, deep blue gemstone was plucked from the forehead of an Indian temple idol by a Hindu priest, who is said to have triggered the curse and suffered great pain as a result. In 1668, the diamond was bought by Louis XIV of France, but it was stolen during the French Revolution, accompanied by rumours that Louis XIV and Marie Antoinette had fallen victim to the curse. In 1912, it was set in a white diamond necklace by Pierre Cartier and became the property of heiress Evalyn Walsh McLean. Later, McLean's son died in a car accident, her husband divorced her and went insane, and her daughter committed suicide. in 1958, Hope's owner at the time, jeweller Harry Winston, donated the watch to the Smithsonian (sent by post). Want to know a curiosity that contributes to its uncanny reputation? When the Hope diamond is exposed to ultraviolet light, it appears to turn blood red in colour.
The Napoleon diamond necklace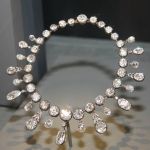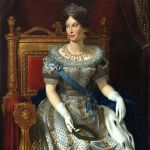 Emperor Napoleon commissioned the Napoleon diamond necklace from the jeweller Etienne Nitôt and Sons in Paris for his second wife Marie-Louise as a gift for the birth of their first child. The original necklace contained 234 diamonds: 28 old mine-cut diamonds, a ring of nine pendants and 10 briolettes. Today, Napoleon's diamond necklace is on display at the Smithsonian Institution's Museum of Natural History in Washington.
Koh-I-Noor diamond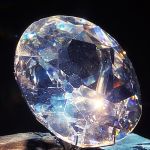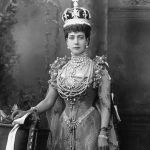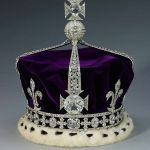 Today, the 105-carat jewel (it originally weighed 793 carats) can be found in the Tower of London on the crown worn by Elizabeth, the Queen Mother, at her coronation in 1937. Until then, however, the Koh I Noor diamond had passed from hand to hand for more than 5,000 years, becoming the property of sultans, warlords and rulers from time to time, until the diamond was gifted to Queen Victoria during the conquest of the Punjab. Since then, it has been in the possession of the British royal family.
The Cartier Panther bracelet by Wallis Simpson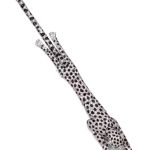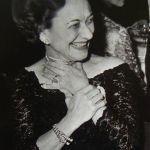 Wallis Simpson was a great jewellery collector. The Cartier Panther bracelet was one of her favourite pieces of jewellery. Like many other pieces in her possession, it was given to her by Edward VIII during the couple's exile in Paris and designed by Jeanne Toussaint, the creative director of Cartier. The panther-shaped bracelet, adorned with onyx and diamonds, was sold at Sotheby's in the early 2000s for £4.5 million. It is rumoured that Madonna, who was filming the Simpsons biopic WE at the time, also tried to snap up the bracelet before the auction, but was outbid by an anonymous buyer.
The "Breakfast at Tiffany's" diamond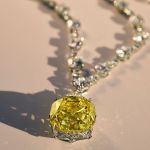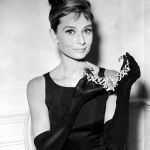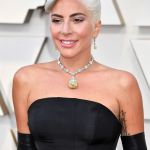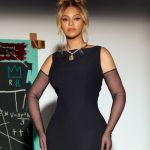 The gemstone was discovered in the South African Kimberly mine in 1877 and purchased the following year by Charles Lewis Tiffany for 18,000 dollars, who had it cut into its current 82-facet cushion shape. To date, the jewel has been worn at least five times: by celebrity Mrs Mary Whitehouse at a charity gala in 1957, by Audrey Hepburn in the Breakfast at Tiffany's advert (she wore it in a Ribbon Rosette necklace by Tiffany jeweller Jean Schlumberger), by Lady Gaga on the red carpet of the 2019 Oscars, by Gal Gadot in the 2022 film Murder on the Nile and by Beyoncé for the 2021 Tiffany & Co advertising campaign.
The Tutti Frutti necklace from Cartier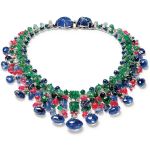 The necklace, also known as the Hindu necklace, was commissioned by Daisy Fellowes from Cartier in 1936. She was a Singer sewing machine socialite and heiress who was known for her impeccable sense of style and was considered one of the best-dressed women in the world in the 1930s. Later, in 1963, it was altered, but it is still a symbol of the dazzling beauty of the Tutti Frutti style. The piece of jewellery is one of Cartier's most famous pieces, which helped to establish the Maison's "Art Deco" trend. It is composed of dozens of sapphires, rubies and emeralds engraved or carved in the shape of leaves, buds and berries, as well as diamond pearls set in platinum. The piece was worn only once by Mrs Fellowes and after her death passed into the hands of her daughter Emmeline de Casteja, who dramatically remodelled it.
The Taylor Burton diamond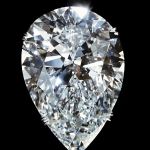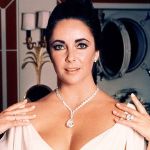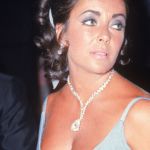 This is a huge diamond, characterised by its pear cut of 69.42 carats. It was mined in 1966 in the Primer mine in South Africa as a colourless rough diamond of 241 carats and later cut by the American jeweller Harry Winston into the gemstone that first became known as the Krupp Diamond and later as the Taylor-Burton Diamond. in 1968, Richard Burton gave it to Elizabeth Taylor as a gift. The actor bought it for 305,000 dollars as penance for calling Liz's hands "ugly"," "manly"," "big" and "manly" during an argument. She said she would only forgive him in exchange for what she said was the "biggest and most expensive diamond in the world"," which was the only thing that would make his hands look smaller and less ugly. Many years later, it was auctioned off for 8.8 million dollars.
Grace Kelly's engagement ring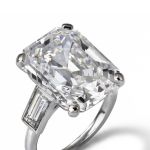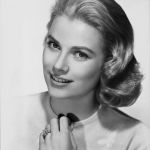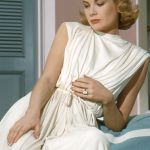 The engagement ring given to Grace Kelly by Prince Rainier marked the beginning of her transformation from Hollywood star to royalty. The actress wore the Cartier ring with a 10.47-carat emerald-cut diamond set in a platinum setting in several scenes in High Society, a film in which Grace Kelly plays socialite Tracy Samantha Lord, a divorced woman being courted by three men: her ex-husband and jazz musician (Bing Crosby), the businessman (John Lund) and the journalist (Frank Sinatra). In an interview with the Philadelphia Inquirer, the actress confessed that the stone was her second engagement ring, given to her by her fiancé, Prince Rainier III, after he learnt that Grace was to wear a huge solitaire on set. According to reports, the ring is now worth more than 4 million dollars.
Princess Diana's engagement ring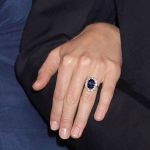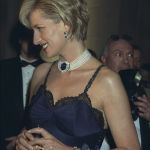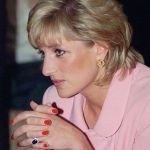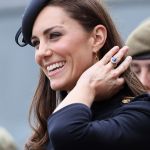 It is an 18-carat oval blue sapphire surrounded by a crown of 14 brilliant-cut diamonds and set in an 18-carat white gold setting. Princess Diana chose it as her engagement ring in 1981, and the piece of jewellery cost just 60,000 dollars. At the time, critics called it "the "common man's sapphire" and turned up their noses at the fact that a royal was buying something relatively simple. But the princess made the ring and the stone so iconic that its prominence within the royal family has made it one of the most popular and famous pieces of jewellery in recent history. in 2010, Prince William slipped it on Kate Middleton's finger on the day of their engagement, where it still shines today.
Learn more about the vintage and second-hand world in the nss G-Club Vintage Map