Italian dishes loved by American celebrities
Better spaghetti with tomato sauce or tortellini?
The most obvious combination when a foreigner thinks of Italy is food. Even when it comes to celebrities. From Madonna to Kim Kardashian, there are many stars who declare their love for our country's food and use their summer holidays to immerse themselves in the peninsula's culture and, above all, its traditional dishes. Okay, some still insist on drinking cappuccino with their pizza or ordering chicken parmigiana, but there are also those who have a more sophisticated palate and enjoy trofie, gnocchi and risotto. Think about it: Stanley Tucci has almost turned his passion for all things Italian food culture into a second job, and Jessica Chastain, who married Gian Luca Passi from Treviso in Preposulo in 2017, has become something of an ambassador for pasta abroad by showing in a joint video that you don't need a spoon to eat spaghetti.
Indeed, eating dishes of Italian cuisine remains the favourite pastime of celebrities, attracting even the most seemingly distant characters among them. After all, who can resist a plate of pizza or spaghetti with tomato sauce? Here are the Italian dishes that American celebrities love.
Justin Bieber - Spaghetti Bolognese
Is his hit song Yummy dedicated to his wife Hailey or to what he thinks is the most delicious thing in the world, spaghetti bolognese? It is futile to explain that no, they are not an Italian dish and that drinking a glass of milk over them is not a good idea. The singer loves them so much that he has declared that they are his favourite dish and that he wants them to be his last meal on earth. In an episode of the Facebook vlog series Biebers on Watch, he even tried cooking them - with Hailey's invaluable help, of course. The couple's recipe for the perfect spaghetti bolognese? It calls for gluten-free pasta and a sausage-based bolognese sauce, while the gravy consists of tomato sauce, chopped onions, minced garlic and cream. Would you eat it?
Beyoncé - Pizza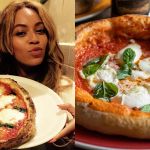 Everyone loves pizza. Beyoncé does too. A good Texan, Queen B is a sucker for spicy and when she eats the world's favourite Italian dish, she orders it with jalapenos and extra tomato sauce. Her favourite pizzeria? Lucali, in the Brooklyn borough of New York City. The star has such a passion for pizza that she once wore a total look that had dozens of mini pizzas printed on it. It also seems that the smell of pizza that hit Beyoncé's nose while walking through downtown New York City was the inspiration for the lyrics to If I were a boy. In an interview, Bey told us that it all started with a conversation with her producer Toby Goad. "We were walking through Times Square and I remember saying to him, 'I wish I were a boy (I wish I were a boy), there's this pizza that smells so good.' I try not to eat carbs, but I wish I was a boy, so I don't care either.' We went back to the studio, I wrote the lyrics in 15 minutes, he had to record a guitar part. At one point Toby looked at me and said, 'We've just written a big hit I thought he'd gone mad.' Honestly, I didn't realise." Did you know that?
Rihanna - Gnocchi
What couldn't Rihanna give up even during her pregnancy? Italian cuisine, especially pasta, which has declined in all its forms. The place where she sits down in peace and enjoys a good dish is the Giorgio Baldi restaurant in Santa Monica. When she is here, Riri always orders ravioli with ricotta, spaghetti with tomato and basil and, her favourite, gnocchi. The star often alternates between versions with meat sauce, preferably with plenty of Parmesan, and those with "light and creamy" Gorgonzola sauce. Carbohydrates mon amour!
Paris Hilton - Lasagne
In 2021, when she was still engaged to entrepreneur Carter Reum and rumours of a possible pregnancy were circulating, she wryly replied, "I'm not pregnant yet. The only thing I have in the oven is my lasagne!" It's no coincidence that Paris Hilton mentions pasta in the oven, as that seems to be her favourite dish. A few years earlier she even dabbled in cooking and showed how to make lasagne. Fifteen minutes of pure entertainment, in which Paris transforms herself into an unlikely and clumsy cook, without giving up her gloves and glitter sunglasses. And the result? Well, maybe it's a good thing the celebrity doesn't cook for a living.
Kim Kardashian - Agnolotti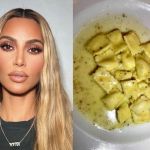 Remember that episode of The Kardashians where Kim Kardashian asked a poor waiter in Milan at MFW, "What's tortellini?" And lo and behold, maybe the founder of Skims doesn't know about one of the most iconic dishes in Italian food culture, but she's certainly more familiar with Agnolotti. In fact, he seems to be a big fan of Giorgio Baldi's agnolotti, a type of pasta filled with white corn and topped with a white truffle sauce that has been on the menu since the restaurant opened in 1990.
Oliva Wilde - Taralli
Olivia Wilde chose Puglia for her summer holiday this year and fell in love with one of the typical products of the southern Italian region. The American actress and director dedicated a series of Instagram stories to her current food obsession: taralli. "A simple question for Italy: what are these? I can't stop eating them, I'm addicted to them," she says while biting into a tarallo. Dear Olivia, we have the same problem as you!
Kourtney Kardashian - Focaccia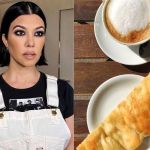 In 2022, Kourtney Kardashian chose Portofino to celebrate her wedding to Travis Barker and used the holiday to sample one of the must-tries of Ligurian culinary tradition: Focaccia. Kim AND Kylie's sister documented her dining experience with Instagram stories in which, like a true Genoese, she breakfasts on focaccia and dips it in cappuccino. Yum!
Obama e Michelle - Strangozzi carbonara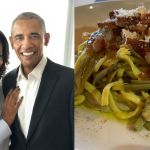 Like many American celebrities, Mr. and Mrs. Obama love pasta. Their favourite dish? Strangozzi carbonara, especially those made by Tony Mantuano, owner of La Spiaggia restaurant in Chicago. The Italian-American chef cooks a variation of the Umbrian dish in which bacon and chicken eggs are replaced by truffles and quail eggs.