How and why Glastonbury is cooler than Coachella
In the universe of musical festivals England beats California
Glastonbury vs Coachella. One takes place in the English town of Pilton, Somerset. The other in Indio, California. The first has a history dating back to the 1970s. The second was launched in 1999, at the beginning of the new millennium. Both are highly anticipated events with a star-studded line-up and huge audiences who get a unique experience for a few days, witnessing performances by very different artists. But only one is the coolest music festival. And it's not Coachella.
Okay, it's sunny and hot in California and the weather lends itself well to a summer wardrobe of shorts and billowy dresses, but the flash of smartphones and cameras shines brighter than the flashy outfits that characterize the crowds that throng beneath the stages. In contrast, England almost inevitably rhymes with rain and mud, but also with a certain authenticity that still endures despite a few Instagram addicts. Glastonbury is not just the place to satisfy your fomo, a musical version of the Met Gala where every detail is studied to garner likes and followers, but it remains a collective ritual where the music and the festival experience are still central. One only has to scroll through the pictures of the last edition, which ended just a few days ago, to see a human jumble of different faces, bodies, ages, origins and styles. There are families with kids, sixty-somethings, Gen Z, celebrities, hippies, people in jeans and t-shirts, campers who embrace gorpcore out of necessity rather than trend, early 2000s orphans, people in masks, alt-rockers and those who have never given up on the indie-sleaze aesthetic. Even in terms of look, the festival seems to have retained a kind of virginity, an age-old connection to the desire for rebellion, free expression and exchange that it had when it was born over fifty years ago. Let us not be so naïve as to misjudge the people who attend the festival to be seen and photographed and who stand for hours searching for the perfect festival look. Let us just say that this fashion is now inextricably linked to Coachella, with its plastic crowns, cowboy boots, Revolve dresses, crocheted dresses and faux-boho aesthetic that spares no one from Kendall Jenner to Chiara Ferragni, Vanessa Hudgens to Rihanna, but here in the English mud there is still room for personal style, which, if it has elements in common (and it does), is a real need, a pure expression of Britishness.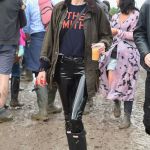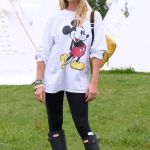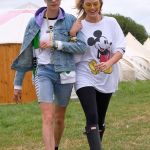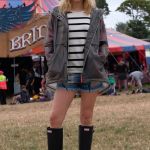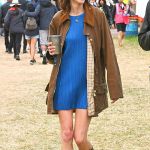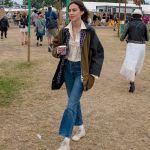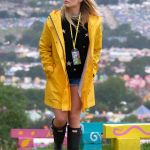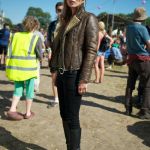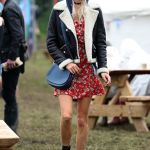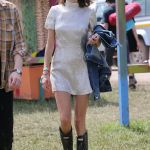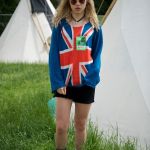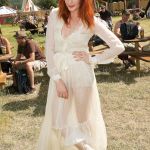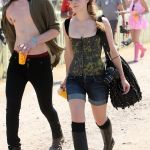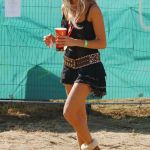 Many of the garments we have seen celebrities wear on the Glastonbury stages over the years are true essentials of their wardrobe. Glasto looks win because they are authentic and reflect the identity of the festival and the wearer. Not a choice made just to be Instagram-friendly. That's another reason why the festival in Somerset trumps the one in Indio. Sienna Miller really does wear Ugg boots, vintage Levi's shorts and wide-brimmed hats; Kate Moss loves slip dresses, chooses them for every occasion and has no problem pairing them with Hunter boots; Alexa Chung often protects herself from the changeable British weather with a Barbour and dances with white Superga's on her feet; Cara Delevingne prefers frayed jorts and colourful sweatshirts while listening to her favourite band with her friend Margot Robbie and also when walking the streets of London. There is no compulsion. And when something is studied, it does not sound fake because it matches the personal style of the person.
Glastonbury has been the same for decades and yet, unlike the plastic and fake fixity in which Coachella has fossilised, it is alive, it breathes, it continues to be sincere and cool as hell. That's why, even today, when we look at pictures of Kate Moss in muddy Hunter boots and a frayed dress on the arm of Pete Doherty, we wish we could be her, or at least dress like her. And we have the same happy, relaxed look on our faces as those who know that Glastonbury is a parallel universe where everything stays the same but is still contemporary and desirable. All to the soundtrack of David Bowie, The Smiths, Amy Winehouse, Blur, Nick Cave, Florence & The Machine, Adele and tuuti the other artists who have performed on the stages of Pilton.