Taliso was born from molten glass, to be seen on the Fuorisalone 2023
Interview with designer Elena Salmistraro
This year's Fuorisalone seems to have only one goal: to be more magical than ever. Perhaps that is precisely why WonderGlass has named its group exhibition Abracadabra. It was held at the Istituto dei Ciechi at Porta Venezia in Milan in the 19th century, where the installations of designer Elena Salmistraro were brought to life together with those of Paul Cocksedge, Tom Dixon, Elisa Ossino, John Pawson, studiopluz, Bethan Laura Wood and Dan Yeffet. Abracadabra, which in the popular imagination is the word that casts spells, is also a celebration of the magic of glass, its transformative power and the spectacle its working offers. The exhibition at Fuorisalone is a special opportunity and a unique experience to scrutinise the performative play of the material and the evocative sensibility of the designers: The exhibition circuit transports the viewer into a fantastic reality, more like a dream, created by the play of light, shades and transparencies.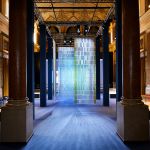 Elena Salmistraro returns to Milan Design Week with 11 collaborations.
For WonderGlass, she participates in a group exhibition dedicated to the magic of glass at the Istituto dei Ciechi; in Piazza San Simpliciano, she presents a personal collection of precious carpets behind the window of Tai Ping; and in the spaces of Superstudio Più, she appears among the names of the protagonists of Stars of Today, a parade about design curated by Giulio Cappellini. "In my work, I draw inspiration from everything that surrounds me. Meanwhile, I know that inspiration can come from anywhere and at any time. While walking, looking at a shop window or visiting markets. I have refined this ability to immediately read what surrounds me and understand what I like, then translate it into drawings."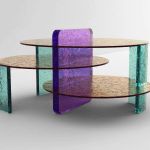 Elena Salmistraro participates in Abracadabra with the coffee table Taliso. In this magical object, which illuminates the high room like a talisman, everything is explored by experimenting with the versatility of glass.
The technical development and boundless creativity of the design are defined by the overlapping and interlocking of fused glass plates, cylinders and tops. Taliso is inspired by architectural principles where weights are balanced and carefully structured to control the organic movement of glass textures. A primitive, raw, primal, compositional play, but at the same time contemporary, delicate and technically complex "I was called by WonderGlass, but we already had a material in hand, we said, "Let us start with fused glass" So more than inspiration, in this case we started with the material. I went for it, although it was something new for me. I had worked with blown glass before, but not yet with fused glass. And so the Taliso coffee table was born."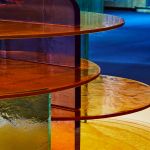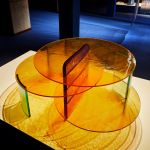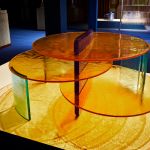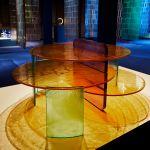 Every designer has their own story. Elena Salmistrato's story is inextricably linked to Milan.
"I studied fashion design and graduated from Milan Polytechnic. Then I started over again and also did a degree in industrial design," says Elena Salmistrato about her path. "This has helped me a lot because I can move well in the world of fashion as well as product design. When I studied fashion design, I worked a lot with textures and textile patterns, and I take that sensitivity to colours and touches into every project I do." Even in her own wardrobe, Elena lets her distinctive traits shine through. "I can not remember a day when I wore black. So yes, I carry colours around with me every day."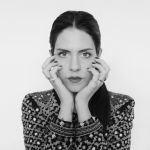 Her designs have been selected to participate in major events and in 2017 she won the Salone del Mobile Milano Award for "Best Newcomer Designer"
"In the life of every young designer there will certainly be moments when the desire fades a little, in the beginning it is always complex. You have to start making acquaintances, win the hearts of the first companies, persevere and keep going. The moment everyone is waiting for will come with the first results." in 2008, Elena set up her own professional studio - again in Milan, with architect and partner Angelo Stoli - where she focuses on product design and architectural design. "My husband and I have been together for 15 years now. As he is an architect, he is very rational by nature, while I am pure creativity. This difference is fundamental. We have managed to find the right balance, and that is not easy. In my case, he supports me a lot by taking care of the technical drawings and being able to interpret immediately what is going on in my head. I think it's nice to have a person by your side who understands you even when you are working."