The best outfits and beauty looks from the second night of Sanremo 2023
From Levante's '70s cat-eye to Madame wearing Off-White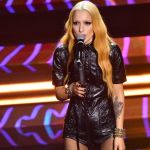 The second evening of Sanremo 2023 begins with a restaging of the Blanco affair. Gianni Morandi enters the stage with a broom to distribute rose petals and intones Nilla Pizza's Grazie dei Fiori to reconcile the festival with the flower massacre perpetrated by the singer Brividi on Tuesday. It continues with the rhythm of the songs, those of the unprecedented trio Gianni Morandi-Massimo Ranieri-Albano and of the great names of the competition, from Madame to Levante, from Giorgia to Paola and Chiara, but also of the monologues. The most captivating moments of the evening are the one in which the Italian-Iranian activist Pegah Moshir Pour and Drusilla Foer call for peace and revolution in Iran, and the monologue dedicated to juvenile delinquency, written four-handed by Francesca Fagnani, Wednesday's co-host, with the boys from Nisida juvenile prison. After the incredible success of the first night, watched by 10 million 757 thousand viewers with a market share of 62.4%, it is difficult for Amadeus to top itself and perhaps the pace was slower today.
Here are the best outfits and beauty looks for the second night of Sanremo 2023.
Francesca Fagnani
Brand: Armani Privé
Look: The journalist opts for the timeless elegance of Armani Privé, paired with smokey eyes and slightly wavy blonde hair that falls freely to her shoulders. The first dress, with alternating shimmering nude and black stripes, has a deep V-neckline and a flared tulle skirt that reaches down to her feet, where Roger Vivier's pumps stand out. The second look combines a crisscross top and black velvet trousers. Francesca Fagnani ends her Sanremo 2023 experience with a similar dress to the one she wore at the beginning of the evening, but this time with a lace effect. Classic.
Lazza
Brand: Missoni
Look: Lazza arrives at the festival in a glitzy look that reinterprets the iconic zigzag of Missoni fabrics in a sequined version, designed four-handed by creative director Filippo Grazioli with stylist Simone Furlan: baggy trousers and jacket paired with a black lurex T-shirt. The special detail? On the back of the jacket is embroidered in lamé thread and jails "ZZALA", Lazza's first album from 2017.
Giorgia
Brand: Dior
Look: Returning to the competition after 22 years, Giorgia always looks like a perpetual little girl who shines with her singing talent, but perhaps not with her choice of look. The Roman singer opted for a slightly wavy lob, washed denim eyes, and a blue jumpsuit with a bling-bling effect by Dior, paired with a pair of gladiator boots, which are the only striking feature of the performance. The color of the outfit refers to the new album, which is accurately titled Blue and will be released on 17 February. The styling is by Valentina Davoli.
Madame
Brand: Off-White™
Look: for a moment it looks like we are seeing JLo, but it's Madame. She sings Il Bene nel Male and, inspired by the song's lyrics, she appears in an unprecedented sensual version designed with Simone Furlan, her trusted stylist: a white blazer dress embellished with a feminine rhinestone silhouette on the front and a cut-out back revealing silk and lace underwear; Motomami-style over-the-knee boots. All by Off-White. The hairstyle consists of a wavy mullet. Greta Agazzi's make-up is a play of blush and highlighter, light and shadow sculpting the face.
Levante
Brand: Etro
Look: when she walks down the steps of the Ariston in a very short leather jumpsuit with tone-on-tone tights and platform sandals, all by Etro, there is nothing left for anyone to do. The dark and cool look is completed by ginger blonde hair that is very long and enlivened by velvet waves, bleached eyebrows, ultra-graphic cat eyes, and matte red lips. Combining Motomami, the trend of wearing panty-less tights and siren eyes, Levante wins on both outfit and beauty thanks to styling by Lorenzo Oddo, hairstyling by Grazia Cassanelli for L'Oréal Professionnel, and 70s-inspired make-up by Valentina Raimondi with products by Clarins.
Tananai
Brand: Gucci
Look: Tananai, along with her stylist Nick Cerioni, chooses an unmatched Gucci outfit consisting of a plum purple velvet jacket with a blooming fabric flower on the lapel, a light blue shirt and black trousers with an ultra-loose fit. The curls are more disciplined than usual, the smile is as mesmerizing as ever and the overall vibe is retro.
Rosa Chemical
Brand: Moschino
Look: Rosa Chemical wears a Moschino outfit from the FW23 collection, consisting of a black suit with a jacket held together with safety pins, under which a corset peeks out. On his feet, she wears a pair of amphibians. Sunglasses cover the look and complement Simone Folli's styling. His hair is combed back, while the make-up focuses on glossy lips and very long, pink-painted nails.
Paola e Chiara
Brand: Dolce & Gabbana
Look: They were highly anticipated and did not disappoint. The Iezzi sisters made Furore, like the title of their new song, with two silver sequined disco diva dresses by Dolce&Gabbana. The strobe-like sparkle of Nick Cerioni's styling was enhanced by Swarovski jewelry and make-up by Letizia Maestri with products by M-A-C Cosmetics. Paola and Chiara shine in their own light thanks to their skin embellished with glitter. If this is the first look, we are now even more curious to see what they have in the shop for the coming evenings in Sanremo 2023.