Anna Delvey will make a reality show about her life under house arrest
She will open her home for conversations with a series of celebrity guests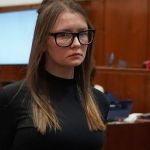 Her real name is Anna Sorokin, but we all know her, mostly thanks to the series Inventing Anna, as Anna Delvey, the Russian scammer who duped several members of the rich New York crowd by posing as a German heiress and succeeding in embezzling some $275,000. Her story led to her receiving a sentence of up to 12 years in prison for several crimes, including grand larceny, but what has now become of the star of the popular Netflix project? After being detained by Immigration and Customs Enforcement (ICE) since March 2021 for overstaying her visa in the United States, the immigration judge released her on $10,000 bail. Anna is currently serving house arrest in her apartment in New York City's East Village, wearing an ankle bracelet that monitors her movements. From this new experience, the hustler got the idea for Delvey's Dinner Club, a show, devised in collaboration with media company Butternut and Wheelhouse, a company led by former Food Network president Courtney White.
The concept is based on a series of invitation-only dinners reserved only for prominent socialites, "celebrities, tycoons, and glitterati." This group of actors, musicians, journalists, and celebrities will gather in Anna's apartment to talk with her and hear about her experience with the American justice system, her strategy for rebuilding her image, and her plans for the future. There is no word yet on who we will see on the show, but Delvey has already made a list of who he would like to invite: Homeland Security Secretary Alejandro Mayorkas, Madonna, Elon Musk, Serbian artist Marina Abramović, lawyer and former Secretary of State Cyrus Vance, author Ottessa Moshfegh, and cryptocurrency CEO Sam Bankman-Fried.
«There's nothing like the experience of bringing together a curated group of friends to share life stories and enjoy a great culinary experience. I'm grateful for the opportunity to work with Wheelhouse and Butternut to bring my vision to a wider audience and share a glimpse of the real Anna Delvey.»
Said the fictional heiress, also supported by Courtney White:
«It's often said the best way to get to know someone is to share a meal with them. We're all desperate to know who Anna really is. Delvey's Dinner Club will reveal the actual woman behind everything we've read and watched about Anna. She is breaking her story in her own words and we believe she will defy viewers' expectations.»
For now, no broadcaster has bought the project yet; who knows if we will see it on a major streaming platform soon?