A$AP Rocky's change of perspective is thanks to Rihanna and fatherhood
In a nss's exclusive Apple Music interview, the rapper talks about his evolution, his kid and RiRi's comeback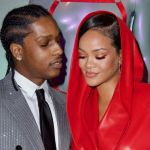 A lot has changed for A$AP Rocky since last year. The rapper is evolving into a new, more introspective and vulnerable version, thanks to the happiness of becoming a parent and having Rihanna with him on this journey, but also to the new rhythm of the creative process he is slowly discovering.
The single "Same Problems" released on January 18, 2023 with surprise appearances by Tyler, the Creator, Thundercat, Miguel and Lil Yachty, confirms that Rakim Mayers is still the same rapper who debuted with the album LONG.LIVE. A$AP 10 years ago: «The irony of the fact that my biggest hit to date was 'F**cking Problems' and that I'm releasing a similarly titled single today makes you think that the problems are still the same, but now I've ever taken the time to realize that I was part of the problem. Sometimes you don't want to make party music all day to distract people from what is really going on. Sometimes it's necessary to touch on the subject, but I did it without wanting to lecture.»
This is how Rocky narrates the single anticipating the new album currently in the works, which promises to tell the story of Rocky's new point of view, which is more mature, relaxed and in line with his experiences of the moment, including time spent with his new family. Being with the baby and raising him with Rihanna has allowed him to recharge his creative batteries to be able to communicate in the right way: «Coming home to my family is like going back to heaven every night. Now that I'm a father, I have a different perspective. I'm more aware and certain experiences I've had on my skin, I have a more relaxed relationship with music, I create purely in my sleep, and I write with a new perspective, somewhat aged, like a fine wine.» If all is well at home and the work future looks more than rosy, Rocky also has a new full-time job: being Rihanna's number one fan. The hit-maker will return to the scenes with her highly anticipated performance at the Super Bowl's Half Time Show on Sunday, Feb. 12, 2023, but she has already winked at new music to come. «The Super Bowl is a huge thing and she, being the creative person she is, is going to be all over it. I'm as excited as you are, in fact, more excited than anybody, honestly.» says Rocky, confirming his lady's official return to the scenes and giving the audience a foretaste of good times to come.