Does Kanye West have a new wife?
According to rumors, the new Mrs. West is named Bianca Censori and has long worked for Yeezy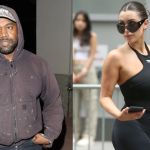 The news came like a bolt out of the blue: Kanye West got married. Or maybe not, because although it seems there was an actual ceremony at the moment no marriage certificate was presented to make it legal. This suggests an impulsive gesture (in full Vegas getaway style) that would be in line with Ye's habit of often acting without thinking too much or, alternatively, a publicity stunt of some kind. Spreading the scoop was TMZ, which reports that the rapper would be getting married in great secrecy to the same mysterious blond woman with whom he had been paparazzied a few days earlier. In fact, among the clues that seem to confirm, if not the marriage, at least the relationship, are some sightings of the star with a bombshell around L.A. and, in addition, outside the Waldorf Astoria hotel in Beverly Hills Kanye sported a beautiful ring on his ring finger that looks so much like a real newlywed.
The new Mrs. West's name is Bianca Censori and little or nothing is known about her except that she would be a longtime Yeezy collaborator where, according to her Linkedin profile, she holds the position of Head of Architecture. From the few images found of her, there is a certain resemblance to Kim Kardashian, with whom she shares an explosive physique and some facial features. As he did with his ex-wife, it seems that West has already begun acting as an image consultant for Bianca, who has switched from long brown hair to a platinum blond bob. Does the change in look mean that Kanye is preparing to introduce his new wife to the world?