Celebrity tattoos to take inspiration from
Micro, all over or matchy-matchy?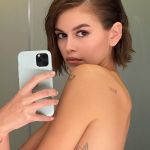 Tattoos tell different stories in the world to stop a memory, pay homage to a loved one, mention a favorite icon, remember the lyrics of a song or simply have a decorative function. They have one common characteristic: they are the indelible accessory of our time, despite the fact that over the years they have experienced several evolutions of styles currently used and preferred, especially by celebrities. From Rihanna with her pistol and the Egyptian goddess Isis dedicated to her beloved grandmother, who died in 2012, to Chiara Ferragni who tattooed a lioness and her little lion on her right arm to celebrate the birth of her son, it is now almost impossible to find a star without ink on her skin. There are those who like to share the same subject with their partner or friends like Selena Gomez and Cara Delevingne who have the same rose on their backs or the cast of Pretty Little Liars who have the initial of the character they play in the TV series on their hands and those who prefer the sobriety of a tiny heart or flower like Hailey Bieber, Bella Hadid or Dakota Johnson. Micro tattoos are loved by the stars who distribute them on their bodies as little secrets to be revealed or collected. A few examples? Kendall Jenner has a cowboy boot on the inside of her foot, Kaia Gerber has a little heart on her arm, Bella Hadid has angel wings in the same position, Emma Roberts has a lucky horseshoe on her upper leg, Millie Bobby Brown has "011" on the inside of her wrist, a reference to her most famous character, Eleven from Stranger Things.
Below are the most interesting celebrity tattoos to take inspiration from.
Matchy-matchy
Hands
Tiny
Random and all-over
Hidden