Madonna wants to make a musical about Balenciaga?
The first hit may already be ready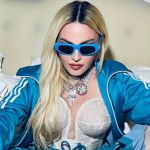 Madonna is in her TikTok phase. After filling her Instagram feed with sexy selfies, family portraits, new music collaborations and messages to fans, the pop queen is now focusing on the Chinese platform between alleged coming-outs and lip-syncs. During a video chat with Terri Joe, the star previewed a snippet of her new hit, a song inspired by her love for Balenciaga that goes something like this: "Why is Balenciaga so Tres Cher? He's French. Why is Balenciaga never giving me discounts? Why do I only wear Balenciaga?" And then he added that he had "thought of turning it into a musical".
So should we really expect a musical about Balenciaga made by Madonna? Hard to say. In the past, the musical has brought Madonna good fortune, so much so that it earned her a Golden Globe for her performance in 1996's Evita, and during the lockdown, in which she reviewed Bob Fosse's filmography, she confessed that she felt inspired to write one of her own. Fans are therefore hoping that the project will go ahead, or perhaps turn into a collaboration with Demna Gvasalia for a capsule collection or fashion show. It would be great to see Miss Ciccone on the catwalk for a fashion show for the Maison and discover how the Georgian-born designer would reinvent the style of the star who, during her long career, has already inspired many designers such as Jean Paul Gaultier and Dolce & Gabbana.
At the moment, the singer is busy working on her biopic that will trace her career in show business and will star Julia Garner, an actress who has become popular for two Netflix TV series, Ozark and Inventing Anna. What is certain is that in recent times the star has joined the long list of celebrities in love with Demna Gvasalia's creations and has sported garments made by the designer for the Maison on several occasions. In a recent post on Instagram, for example, Madge is seen sitting in her bathtub sipping white wine and eating a plate of quesadillas, wearing a blue windbreaker and a pair of baggy, ripped jeans, all by Balenciaga.