Why do everyone wants to live in Emma Chamberlain's villa
A $4.3 million mansion in Los Angeles furnished in an eclectic style that mirrors that of the You Tube star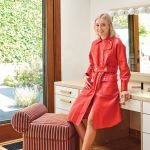 Emma Chamberlain's fans are accustomed to seeing her lounging around the house while drinking coffee in the kitchen, getting dressed in the bedroom, drawing in the living room or brushing her teeth in the bathroom. Over the years the backdrop for her YouTube videos has been her childhood home and then, gradually, a series of rental apartments in Los Angeles, but now the 21-year-old's abode has undergone a decisive upgrade. Emma has moved into a 1955 cottage-style mansion bought for $4.3 million.
Designed by Ashley Drost and Marie Trohman of Proem Studio, the home is filled with warm colors and muted tones, vintage furniture, one-of-a-kind pieces, and natural materials, with a preference for wood and marble. Thus fashionable vintage treasures such as Ettore Sottsass's Ultrafragola mirror and a chaise longue by Milo Baughman coexist with works by contemporary designers such as Faye Toogood and Material Lust, but also with quirky objects such as a vintage television repurposed to turn into a cat kennel or the cob-shaped tables that stand out around the pool. The idea behind the interior design is to create a space that is welcoming, aesthetically interesting, but also suitable for the life of a young girl with eclectic tastes who prefers naturalness and personality rather than glossy magazine perfection. What Emma proudly shows her fans is not a series of Instagram-friendly spaces filled with trendy items chosen just to collect likes, but a heterogeneous mix of furnishings selected as in a Pinterest moodboard.
The star's fresh style is in every detail such as in the kitchen made in shades of green where, as a true coffee connoisseur (Emma also has her own brand called Chamberlain Coffee), the You Tuber has set up a corner equipped with an espresso machine and a special drawer to store beans and blends. In the dining room, attention is caught by a singularly shaped table above which hangs a Trueing chandelier composed of chains and glowing globes; while where not covered with shingles and cedar panels, the walls are adorned with paintings by Emma's father, painter Michael Chamberlain. The master bedroom, with its private fireplace and tiger blanket, exudes ambiance, while Chamberlain's easy-going, cool side dominates in the walk-in closet, where his shoe collection and Ganni vests are on display. The bathrooms? Marble and natural light dominate there. Outside, however, Emma can enjoy a scenic swimming pool, a relaxation area with a hot tub, a meditative garden, and a beer pong table.