Kim Kardashian is into true crime, too
And she's ready to launch her own true crime podcast on Spotify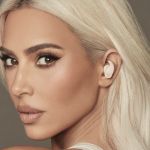 Reality TV star, model, businesswoman and now also podcast host. Kim Kardashian is ready to start a new adventure and, in a recent interview, announced that The System, her true crime podcast, will soon be coming to Spotify. The first season will be devoted to "a really crazy case," that of a man sentenced to death for a triple homicide that occurred in Ohio. Although she did not explicitly name the main character in the case who will be the focal point of the episodes, back in 2019 the SKIMS founder stood up for Kevin Keith, an Ohio prisoner who claims he was wrongfully convicted of murder. Kim visited him in prison and tweeted several times calling for a new trial for him. Five years ago, insinuating that Keith, whose sentence was commuted to life without parole within days of execution, was a victim of a miscarriage of justice, she wrote that "the world needs to know what happened to him!" Now, with his new project, he promises to shed light on the case by taking the listener on a journey to find the truth.
I had the pleasure of meeting Kevin Keith through a video visit & was so impressed w/ the amazing programs he created in prison to help others inside better themselves! So much evidence has been uncovered proving Kevin's innocence. I hope justice is served soon & he is released. pic.twitter.com/mFrA76QlEX

— Kim Kardashian (@KimKardashian) July 16, 2019
Her passion for true crime and justice in general ("I'm obsessed. I had to stop watching Dateline and all the shows when I was in law school," she confessed) began in 2018, when Kim personally intervened to save Alice Marie Johnson, an African American woman convicted of a nonviolent drug crime, from life in prison. Thanks to her popularity, she managed to get a meeting with U.S. President Donald Trump and convince the politician to commute the sentence and free the woman after 21 years in prison. Only a few months later, the celebrity began a 4-year apprenticeship (which in California can substitute for law school) at a San Francisco law firm with the intention of becoming a lawyer by 2022, thus following in the footsteps of her father, Robert Kardashian, famous for being O.J. Simpson's defense attorney during his infamous murder trial. Explaining her reasons for wanting to pursue a career as a lawyer and help people get out of prison, Kim said:
"I just saw something on social media that I didn't feel like was fair, and I didn't understand it. A woman that didn't do anything violent, never had a ticket in her life, she answered the phone as a mule for a drug case and got the same sentence as Charles Manson. When I saw that, I was like, 'I don't get it. How did this happen? Did she need a better attorney?' I really didn't know, so I educated myself about it."
Then she added:
"I thought, 'Okay, I can handle [pardoning] low-level drug offenses, that I can resonate with.' But if someone was killed — I didn't know I could get behind it until I was brought to a women's prison. Their stories were all very similar. They all committed a crime for their boyfriend, or for their husband. I mean, I probably did some dumb shit at some point and I was maybe just a few decisions off of being in a similar situation, any of us could be. Once I saw how broken the system is, I couldn't stop. I have to help as many people as I can. These people are thrown away and put in prison and no one cares. It's so heartbreaking".
In recent years, Kardashian has traveled to the White House several times to talk about the structural problems of the criminal justice system, helped fund several campaigns to commute sentences and get people out of prison, and focused on the practice. After passing the "baby bar" last December, the first of two exams required to practice law in California, she is halfway through law school and hopes to become a lawyer soon. As she strives to realize her dream, she continues to pursue her many work commitments, dividing her time between reality shows, SKIMS, advertising campaigns, such as the one for Balenciaga, photo shoots (in the latest one, abetted by trusted hairstylist Chris Appleton, she sports a new ultra-light blond hair look, including eyebrows) and will soon debut with The System podcast.